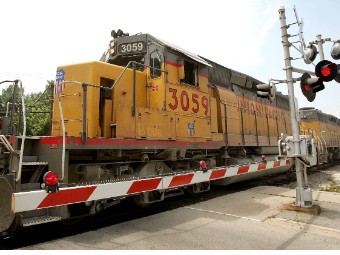 Ticker

: UNP

P/E

: 14

EPS growth

: 14%
Come on, baby, do the loco-motion! Nothing can stop North America's largest railroad.
Despite weak coal and grain traffic, Union Pacific (UNP) delivered its most profitable year in its 150-year history in 2012 by hauling huge volumes of crude oil, cars and auto parts around the country.
And 2013 is expected to be another record year, say analysts.
Petroleum and crude related shipments jumped 60% last year. That rapid growth should continue this year, helped by rising shale production. Strength in car shipments should also continue to be a big driver, due to pent-up demand from consumers replacing older vehicles.
And as the housing and construction booms gain steam, analysts expect there will be higher demand for transporting industrial products.
The railroad's stock has surged to an all-time high above $130, and it's expected to continue full-steam ahead. Barclays analysts have a price target of $158. That's up nearly 20% from current levels.