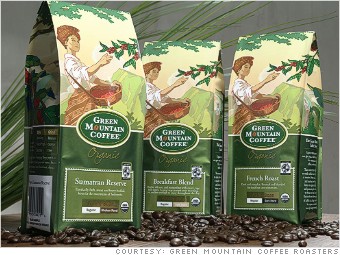 Ticker

: GMCR

P/E

: 18

EPS growth

: 14%
One man's trash is another man's treasure.
Short interest on shares of Green Mountain may be high, thanks to influential hedge fund manager David Einhorn, who announced his short position over a year ago. But the stock has picked up considerable momentum in recent months.
Shares of Green Mountain (GMCR) have more than doubled over the past six months, as coffee lovers continue to show their affection for the company's Keurig single-cup coffee makers. During its fiscal first quarter, Green Mountain sold nearly 5 million Keurig brewers, up 18% from a year earlier.
The stock took a hit last week after Green Mountain issued a weaker-than-expected revenue forecast for the first quarter, citing a slowdown in the overall coffee industry, but when it comes to the Keurig machines, analysts remain optimistic.
Cancaccord Genuity analysts expect several years of strong revenue and earnings growth. And Green Mountain's management are predicting sales of the Keurig machines will nearly triple by 2016, reaching 35 million units.
Green Mountain should also benefit as coffee prices moderate in 2013, following several years of increases.