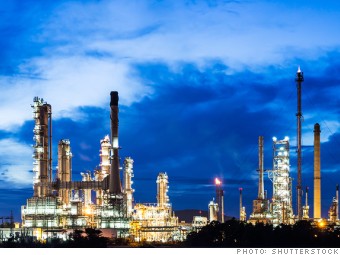 The high-risk/high-reward nature of the energy exploration and production industry has been on full display at the end of this year.
For example, as oil prices raced higher back in 2009 and 2010, Denbury Resources (DNR) was a high-flying stock. But like other E&P companies, Denbury has been in free fall due to nosediving oil prices.
Related: OPEC isn't scared of $40 oil
Last month, Denbury warned it's halving capital spending, dialing back dividend growth and saying goodbye to a pair of high-ranking executives. It's the second worst performer in the S&P 500 this year.
Other beaten-down E&P companies include QEP Resources (QEP), Apache (APA) and Range Resources (RGRYY). The pain has also spread to Jacobs Engineering (JEC), a construction services firm that helps build oil and gas facilities.
Another big 2014 loser in this space is Freeport McMoRan (FCX), the natural resources company that recently diversified beyond metals through two oil and gas acquisitions. Now those deals look poorly-timed, to say the least.