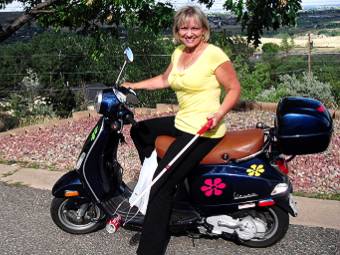 Name

: Marcia Noyes

Age

: 52

Hometown

: Golden, Colo.
The major debt I have is from putting my three kids in college [$100,000], but the two debts I'm working [to pay back] first are the tummy tuck surgery that I got, which I still owe $5,200 on, and I'm trying to pay off the $4,911 I owe on my Smart car by November.
I typically like to attack one debt at a time, so I'm trying to pay my car off first.
Most people would think it would be very minor, but I pick up change when I run -- and I'm a marathon runner so I run a lot. I also pick up change when I'm on my scooter. I put the money in a Ziploc bag and bring it over to my credit union to pay back the car loan.
I [also] take one of those things that people use to reach higher in a cabinet and I grab cans while I'm on my scooter. I probably collect $10 a month on average [from recycling cans and picking up loose change], but it can be a lot more.
My Vespa saves me money, too. I got a registration tag for $5 that lasts three years, when registration had cost $900 for the first year on a car [which I bought in 2011]. Gas doesn't cost me more than $4 a week, and I can park it for free.
So far, Marcia has paid off close to $2,000 on her car loan, and $1,000 in medical bills for her surgery this year.