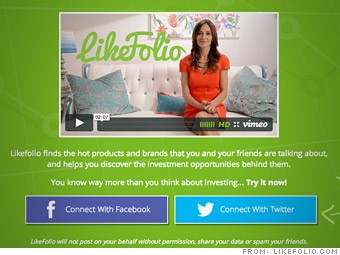 Company

: LikeFolio

Cost

: Free

Platform

: Online
Legendary investors like Warren Buffett and Peter Lynch are famous for their advice to "invest in what you know." But in the social media age, it's all about investing in what you and your friends "like."
LikeFolio combs through likes, status updates and check-ins within your Facebook and Twitter networks for mentions of brands and products. Through a database of more than 30,000 keywords and phrases linked to 2,500 publicly-traded companies, it surfaces the top five companies you and your friends chat about the most. For example, mentions of Pumpkin Spice Lattes would be linked to Starbucks (SBUX).
The site displays a 1-year stock chart of each of the companies and calls out what people in your networks were talking about at various times throughout the year. It also reveals how a mock portfolio equally distributed across those companies would have performed had you began investing in them a year earlier.
LikeFolio plans to add sentiment indicators so you can tell if a company is being talked about for good or bad reasons. The company also hopes to connect to more social networks, including Pinterest.
"By understanding the products and brands you deal with everyday, you can make yourself a competent investor," said LikeFolio founder Andy Swan. "You don't have to follow CNBC." --Hibah Yousuf