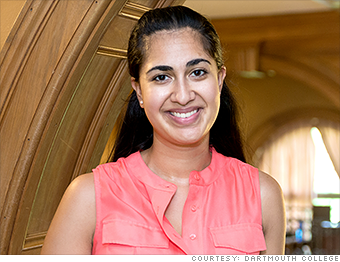 Gurveen Chadha, 22
College: Dartmouth College
Degree: Bachelors in Government
Current job: Marketing assistant at L'Oreal in Montreal
How I got my job: I had a couple of friends that worked at L'Oreal; they put me in touch with some people who worked in HR. I sent in my resume and had to conduct four interviews before I got hired. It was pretty brutal.
I am going to be working in marketing. I've always been interested in what influences people's decisions. I love that I can focus on projects that let me blend my passion for business and social justice. L'Oreal allows me to focus on projects regarding corporate social responsibility.
Advice for current students and recent grads: Do not be discouraged. If you spend time reflecting on what you're good at and passionate about, you will likely end up applying for jobs that are more suited to you and end up having a high success rate.
Know that you might not get your dream job as your first job, and that's totally OK. In this day and age, people switch jobs a number of times, so it's best to just focus on getting your foot in the door somewhere.