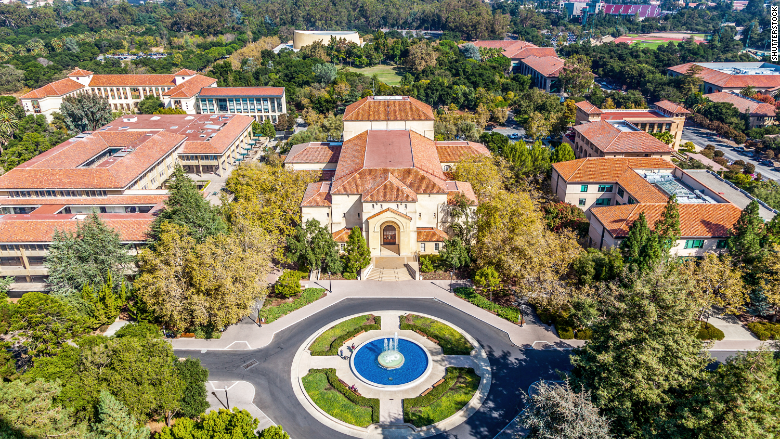 3
20-year return on investment

: $966,900

Annualized return

: 14.2%

Total 4-year cost of attendance

: $233,300
With a list of alumni that looks like a Who's Who of Silicon Valley's top company founders, Stanford is known not only for its STEM programs but also for its offerings across a variety of fields.
According to one study, Stanford graduates have created 39,900 companies since the 1930s, generating $2.7 trillion in annual revenues and 5.4 million jobs.
Yet, only 28% of the school's students are in STEM programs, according to PayScale. A third of students study social sciences or interdisciplinary studies, according to the U.S. News and World Report. But that doesn't stop students from securing high returns on their investments.
Stanford students who went on to work in business and financial operations or sales, marketing and PR saw a return on their investment of well over $900,000, PayScale found.
First published March 10, 2015: 1:18 PM ET
Source:
PayScale
Based on employee survey data, PayScale calculated total median pay for each private school's undergraduate alumni over a 20-year period and compared it to the median pay for a high school graduate over 24 years. The return on investment (ROI) in 2014 dollars was determined by taking the difference between those median pay figures and subtracting the cost of attending the school in 2014 -- including tuition, room and board, and other costs -- and adjusting for scholarships and grants. The annualized ROI is calculated by dividing the earnings differential by the total cost and represents the percent of expected ROI received each year after graduation. Unlike in previous PayScale reports, the earnings differentials in this report do not take into account graduation rates. Alumni who attended graduate school or other higher education were excluded.
Partner Offers
Paid Partner