Viola prodigy who didn't give up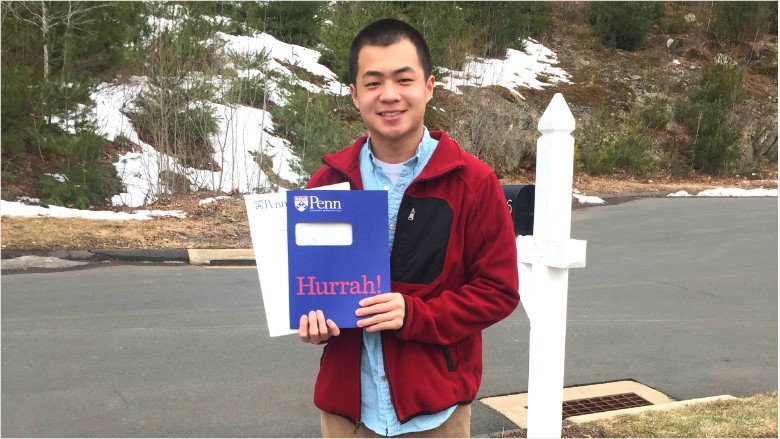 Name

: Austin Zhu

Schools accepted to

: Penn, Brown, Boston College, New York University, University of Virginia

Hometown

: Farmington, Connecticut
How I did it: "In second grade, I started playing the viola. One of my biggest accomplishments was that I've been in regionals every year I've been eligible, since 6th grade. I was selected to all states every year, too, since 9th grade. I started studying at the Hartt School for music at the University of Hartford. I have been in the first chair viola in their best orchestra. We play side-by-side with the professional orchestra in Hartford.
In school, I was elected class president three times."
Test scores and grades: "My cumulative GPA out of 100 is almost a 98. I don't think I've ever gotten anything under an A. I've taken 9 AP classes.
I began studying for the SAT really early but wasn't getting the score I wanted. I made the decision to study for the ACT by myself. I told my parents to buy me a book and I studied the whole summer. I got a 34. I knew that would help me get into the Ivys."
A set back: "I applied to Penn early decision and got deferred. I was heartbroken. But I knew there was still a chance, so I made sure to follow up with a letter to update them on what I was doing. I thought I wasn't going to get accepted, but when I opened the acceptance note, it was the most incredible feeling. I thought there was no chance at all. All my love for Penn just came back. I was ecstatic."
Did you get accepted to the school of your choice? Share a photo -- and tell us how you did it -- with the hashtag #CNNIGotIn on Instagram.
First published April 17, 2015: 5:52 PM ET
Partner Offers
Paid Partner