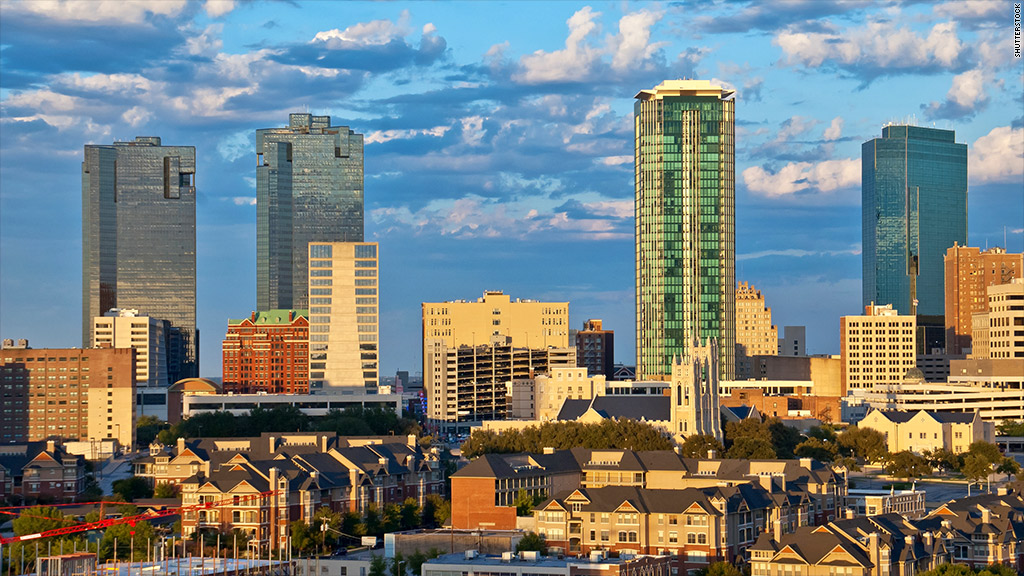 Median home price

: $181,300

Forecast gain through Sept. 2014

: 8.9%
Like most Lone Star state housing markets, Fort Worth's home prices remained fairly stable during the boom and bust years.
Two big factors helped keep the market from imploding: home building was cheap and the local economy strong. Wide open spaces and lax regulations helped keep land cheap and building costs low. While the Dallas/Fort Worth International Airport kept a steady supply of jobs and buyers coming to the area.
But now, as even more employers move into the metro area, there has been a surge in buyer demand -- and home prices.
Amazon (AMZN) is building a distribution warehouse in Alliance, just North of the city, that will employ 1,000 workers. Wal-Mart (WMT) and Motorola are also planning new facilities there, according to the Fort Worth Chamber of Commerce.
"A lot of companies are relocating here," said Tommy Dyer, an agent with Coldwell Banker Residential Brokerage.
CoreLogic Case-Shiller forecasts that home prices will climb 8.9% in the Fort Worth metro area for the 12 months through September.
First published January 23, 2014: 2:54 PM ET
Source: CoreLogic Case-Shiller
Forecasts are for the 12 months ending September, 2014. Rankings are for metro areas with populations of one million or more. In addition to its own data, CoreLogic Case-Shiller compiled its results using data from the National Association of Realtors, the Federal Housing Finance Agency, Moody's Analytics and the Bureau of Labor Statistics.

Partner Offers
Paid Partner
Real Estate Calculator

Was my home a good investment?
Find out now
Personal Finance