Who are the entrepreneurs?
Recently, the Kauffman Foundation released its annual Index of Entrepreneurial Activity looking at entrepreneurism in the United States. Here's a breakdown of some of their numbers that give us a good picture of what entrepreneurs look like today.

Entrepreneurism has increased greatly within the Latino community, up to a 20% share of all American entrepreneurs from just 11% in 1996. Asian entrepreneurs increased to 6%. The percentage of black entrepreneurs declined slightly, going from 8% to 9% in 2013. White entrepreneurs made up 76% of entrepreneurs in 1996, but just 61% of entrepreneurs in 2013.

Women made up 43% of American entrepreneurs in 2013, a slight decrease from 1996, where they comprised 45%.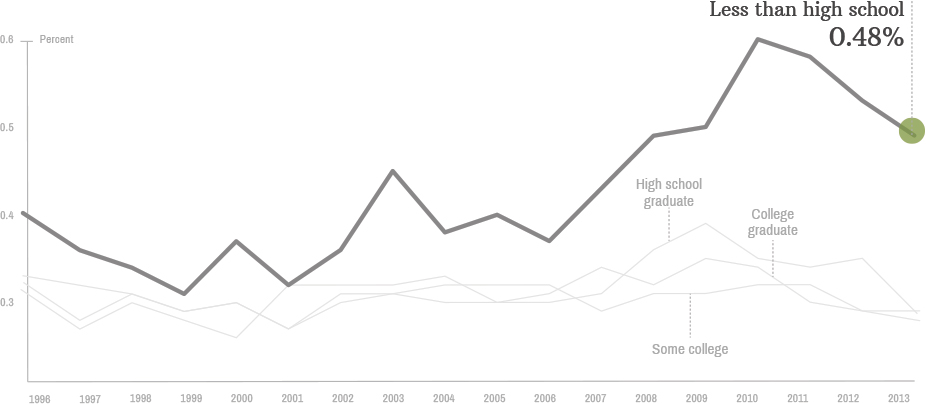 Americans are more likely to become an entrepreneur if they never graduated from high school. This might be born out of necessity and inability to find stable employment elsewhere. Entrepreneurship ranks were higher during the post-2008 recession and have dipped when the market recovered.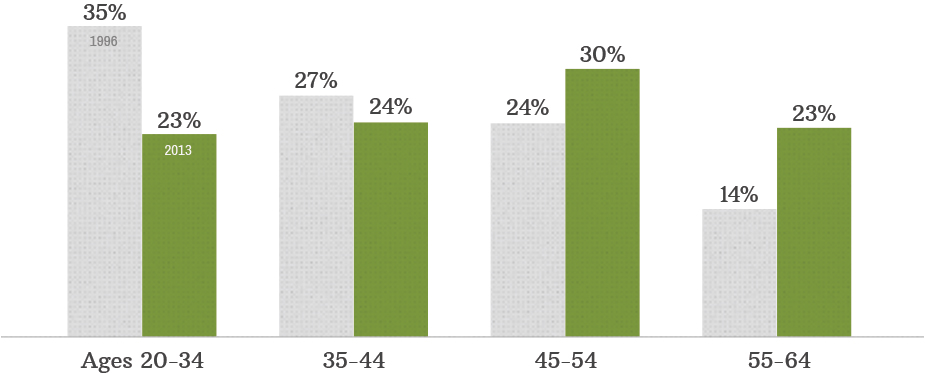 Entrepreneurs come in all ages, but have trended older since the 1996. In 1996, a whopping 35% of entrepreneurs were ages 20-34 and just 14% of entrepreneurs were 55-64. Now the two age groups are equalized -- the percentage of entrepreneurs in both age ranges is 23%. Entrepreneurs aged 45-54 lead the pack in 2013, with 30% of all entrepreneurs in that age range.
Notes: (1) Estimates calculated by Robert W. Fairlie, UC Santa Cruz using the Current Population Survey. (2) The entrepreneurship index is the percent of individuals (ages 20-64) who do not own a business in the first survey month that start a business in the following month with 15 or more hours worked. (3) All observations with allocated labor force status, class of worker, and hours worked variables are excluded.
Graphics: Gwen Sung / CNNMoney