96 of 100
Mattel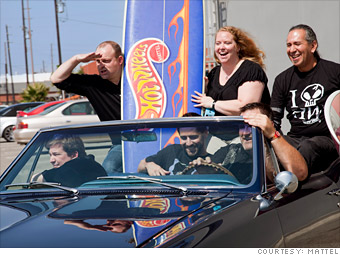 96
Rank
: 96
Previous rank
: 79
2011 revenue ($ millions)
: $6,841
What makes it so great?
The world's largest toymaker received 164,045 job applications last year but filled only 1,292 positions. More than 1,000 employees have been here longer than 15 years.
Headquarters:
El Segundo, CA
Website: www.mattel.com
Employees
Employees outside U.S.
N.A.
Jobs
% voluntary turnover
N.A.
Job openings
(as of 1/2/13)
1,850
Most common job (salaried):
N.A.
N.A.
Most common job (hourly):
N.A.
N.A.
Fully paid sabbaticals
Yes
Health
100% health-care coverage
No
Onsite fitness center
Yes
Subsidized gym membership
Yes
Diversity
Has nondiscrimination policy
that includes sexual orientation?
Yes
Offers domestic partner benefits
for same-sex couples?
Yes
Professional training
Salaried employees (hrs./yr.):
46
Hourly employees (hrs./yr.):
14
From the Feb. 4, 2013 issue