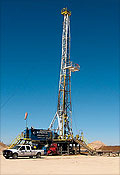 Thanks to the boom in energy and commodities, this year's list is a blast from the past. Five of the top ten fast-growers are actually reinvented industrial outfits that are over 100 years old. And of course there are also plenty of flashier tech firms too.
more

Texas is home to the most companies on this year's list.
more

These Fortune 500 companies are big and growing quickly.
more

Arena Resources posted a spectacular 107% 3-year rate of return. What other fast-growers have been great investments?
more
To qualify, a company must be incorporated in the U.S.; have a minimum market capitalization of $250 million on June 30, 2008; have a stock price of at least $5...
More