16 of 500
Phillips 66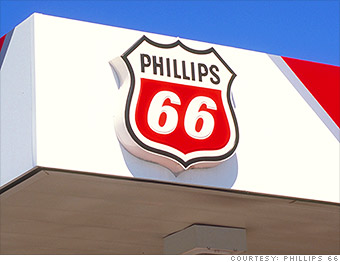 16
Rank
: 16
Previous rank
: N.A.
CEO
: Greg C. Garland
Employees
: 13,500
Phillips 66, ConocoPhillips's spun-off refining arm, was separated from the exploration arm of the energy giant last year. The Phillips 66 name has been among the company's most-recognized brands for decades, first with Phillips Petroleum and then ConocoPhillips after its merger with Conoco in 2002. (The first 66-branded gas station opened in Kansas some 86 years ago.) Its $169.5 billion in sales shot it up to No. 16 on the Global 500 in its first year (back) on the list.
This year the company, like other oil & gas majors, is intent on forming joint ventures and selling assets to shore up its portfolio. The move includes selling its refinery in Ireland and getting ready for an initial public offering of some midstream assets. The company expects the offering to generate between $300 million to $400 million this year.
Headquarters:
3010 Briarpark Dr.
Houston, Texas. 77042
U.S.
281-293-6600
Website:
www.phillips66.com
Key financials
$ millions
% change from 2011
Stockholder's equity
20,775
—
From the July 22, 2013 issue
Notes:
Spun off from ConocoPhillips (2012 rank: 144), April 30, 2012.
Excise taxes have been deducted.