25 of 500
Petrobras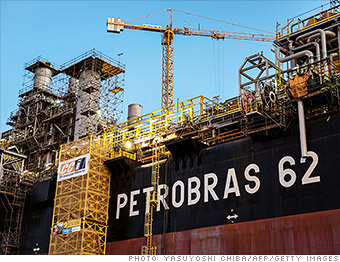 25
Rank
: 25
Previous rank
: 23
CEO
: Maria das Graças Silva Foster
Employees
: 85,065
The government-run energy company with proven reserves of about 14 billion barrels of oil has been hampered by the declining value of the real, Brazil's currency, relative to the dollar. Petrobras operates in 24 countries and has pledged to spend $237 billion on production and exploration projects in the next five years, including in the deep waters off Brazil's southeast coast in a reserve estimated to hold up to 100 billion barrels of oil. Revenue fell 1.2% for Petrobras in 2012, coming in at $144.1 billion.
Headquarters:
Av. Rep. do Chile 65
Rio de Janeiro. 20035-900
Brazil
55-21-3224-4477
Website:
www.petrobras.com.
Key financials
$ millions
% change from 2011
Stockholder's equity
167,887
—
From the July 22, 2013 issue
Notes:
Figures prepared in accordance with International Accounting Standards.
Government owned 50% or more.
Excise taxes have been deducted.