By Michael V. Copeland
Disruptors: Silicon Valley startup Ooma wants to help you connect your home electronics for cheap - starting with your phone.
More
By Adam Lashinsky
Yes, the software giant is hugely profitable. Just not where it competes with Google.
More

By Michael V. Copeland
Disruptors
: By shedding the trappings of a traditional law firm, Axiom's Internet-connected attorneys offer legal services at a deep discount.
More


Protecting from another Katrina
A $1.3 billion levee reconstruction project is underway to help save New Orleans from future flooding.
Play


Green toxic cleanups
After an environmental disaster, the clean-up process known as eco-remediation begins.
Play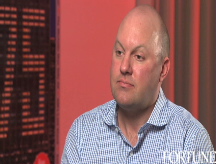 Andreessen launches fund
Armed with $300 million, Netscape co-founder searches for the next tech hit.
Play