Like this job? Now Like CNNMoney on Facebook for career tips, plus the latest business news and features on Personal Finance, the Economy, Markets, Technology, and more.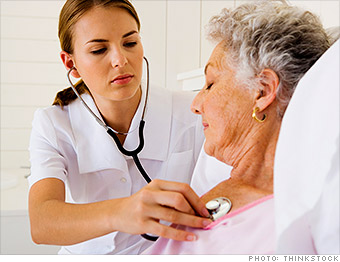 Median pay: $88,300
Top pay: $112,000
10-year job growth: 19.0%
Total jobs*: 55,600

What they do all day?
A nurse practitioner, depending on the state, may prescribe medications, assist with medical procedures and therapy, and provide treatment and counsel to patients as their primary health care provider. While not M.D.s, they hold a master's or doctorate degree in nursing, and need at least a year of clinical training.
--J.A.
Note: The training that nurse practitioners need was clarified from an earlier version of this profile.
Quality of life ratings
:
| | | | |
| --- | --- | --- | --- |
| Personal satisfaction | Low stress | Benefit to society | Flexibility |
| A | C | A | C |