Like this job? Now Like CNNMoney on Facebook for career tips, plus the latest business news and features on Personal Finance, the Economy, Markets, Technology, and more.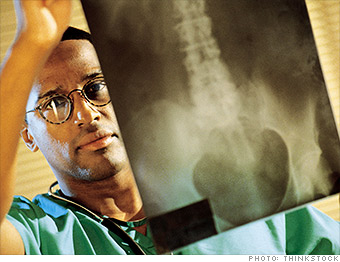 Median pay: $333,000
Top pay: $578,000
10-year job growth: 24.4%
Total jobs*: 691,000

What they do all day?
People with bone, joint or ligament injuries rely on orthopedic surgeons to get them moving again. These surgeons can repair and replace bones and joints and also reconnect nerves to help the skeletal system function properly.
--J.A.
Quality of life ratings
:
| | | | |
| --- | --- | --- | --- |
| Personal satisfaction | Low stress | Benefit to society | Flexibility |
| A | C | A | C |