Like this job? Now Like CNNMoney on Facebook for career tips, plus the latest business news and features on Personal Finance, the Economy, Markets, Technology, and more.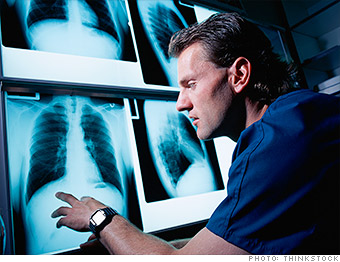 Median pay: $300,000
Top pay: $446,000
10-year job growth: 24.4%
Total jobs*: 691,000

What they do all day?
Radiologists use X-rays or MRIs to spot health issues by looking at diagnostic images or ultrasounds that would appear as indecipherable blobs to the rest of us. After residency, they usually take a two-year fellowship to specialize even further -- say in pediatric radiology.
--J.A.
Quality of life ratings
:
| | | | |
| --- | --- | --- | --- |
| Personal satisfaction | Low stress | Benefit to society | Flexibility |
| A | C | A | C |