Like this job? Now Like CNNMoney on Facebook for career tips, plus the latest business news and features on Personal Finance, the Economy, Markets, Technology, and more.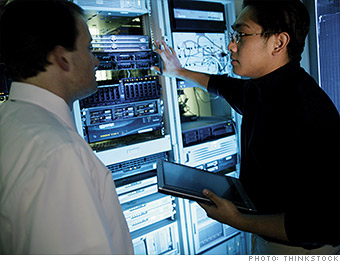 Median pay: $74,000
Top pay: $105,000
10-year job growth: 18.1%
Total jobs*: 607,000

What they do all day?
If you spend your day at a computer, chances are you've had to call tech support at some point. These in-house tech saviors will troubleshoot hardware or software issues and bring you back to full functionality. They also monitor daily performance of the company's computer system in order to detect any problems.
--J.A.
Quality of life ratings
:
| | | | |
| --- | --- | --- | --- |
| Personal satisfaction | Low stress | Benefit to society | Flexibility |
| C | C | C | C |