Like this job? Now Like CNNMoney on Facebook for career tips, plus the latest business news and features on Personal Finance, the Economy, Markets, Technology, and more.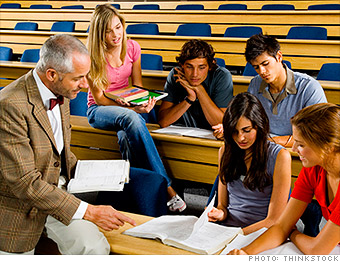 Median pay: $61,200
Top pay: $91,000
10-year job growth: 17.4%
Total jobs*: 1,756,000

What they do all day?
Assistant professors aren't actually assistants -- they're entry-level faculty with a graduate or doctorate degree who are working toward tenure. They choose a specific field of study, such as mathematics or literature, and instruct and mentor students. They also help develop the course curriculum.
--J.A.
Quality of life ratings
:
| | | | |
| --- | --- | --- | --- |
| Personal satisfaction | Low stress | Benefit to society | Flexibility |
| A | C | A | C |