Like this job? Now Like CNNMoney on Facebook for career tips, plus the latest business news and features on Personal Finance, the Economy, Markets, Technology, and more.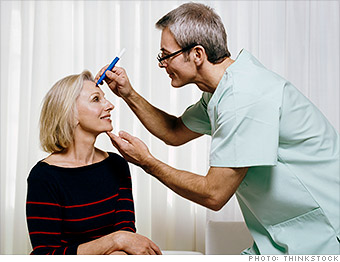 Median pay: $264,000
Top pay: $527,000
10-year job growth: 24.4%
Total jobs*: 691,000

What they do all day?
Plastic surgeons nip and tuck those body parts that people are less than pleased with. According to the American Society for Aesthetic Plastic Surgery, liposuction was the most popular plastic surgery in 2011, followed by breast augmentation, and women made up 91% of total surgeries.
--J.A.
Quality of life ratings
:
| | | | |
| --- | --- | --- | --- |
| Personal satisfaction | Low stress | Benefit to society | Flexibility |
| A | C | A | C |