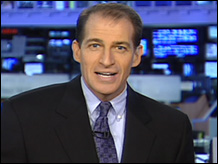 CNN's Allan Chernoff takes a closer look at Supreme Court nominee John Roberts' record as a private litigator.
Play video

NEW YORK (CNN/Money) - Supreme Court nominee John Roberts is likely to win the support of business groups, but in one of his last cases before the nation's highest court he represented a group of states that accused Microsoft of being a monopoly.
Roberts, a U.S. Court of Appeals judge who was nominated for the Supreme Court Tuesday evening by President Bush, argued 39 cases before the nation's highest court as a private sector and government attorney before becoming a judge. (Click here for the CNN.com special report: "A Change at the Supreme Court.")
In one of those cases, he represented a coalition of 18 states and the District of Columbia suing Microsoft along with the federal government. The Supreme Court declined to get involved in the case, in which a District Court decision ordered the software giant to split in two. An appeals court eventually overturned the lower court's order to break up Microsoft.
Even with that antitrust case on his record, Roberts' conservative record is one that businesses are expected to strongly support.
"If business had serious objections to him, he wouldn't have been nominated," said Greg Valliere, political economist with Stanford Washington Research Group.
In fact, the Bush administration reportedly did go over its potential nominees with business groups in an effort to build support for what is likely to be a bruising confirmation battle over social issues such as abortion and right to die. The U.S. Chamber of Commerce and the National Association of Manufacturers, headed by former Michigan governor and Bush friend John Engler, were both involved in the selection process.
Neither business group, however, had taken a formal position on the Roberts selection as of Wednesday afternoon. Stanton Anderson, a lawyer at McDermott, Will & Emery who serves as the chief legal officer for the Chamber of Commerce, said before Roberts was nominated that the group would not oppose Bush's choice.
Appellate attorney Robert Gasaway told the Wall Street Journal that Roberts is a solid pick for business.
"He has recent experience in business cases. He writes very careful, narrowly crafted opinions. And he's a very smart person who is not committed to his ideology. You are in a room with him and he exudes good judgment," said Gasaway, a lawyer with Kirkland & Ellis who has helped business groups vet the nominee list.
If confirmed, Roberts would replace Justice Sandra Day O'Connor, who announced late last month her retirement after 18 years on the bench. Along with Chief Justice William Rehnquist, Justice O'Connor was seen as one of the Supreme Court's best champions of big business. Justice O'Connor was especially critical of court-awarded monetary damages meant to punish wrongdoing, not just compensate victims for their losses.
A win for employers
Roberts would bring to the high court a background that corporate America likes and is currently lacking on the court: extensive experience representing businesses as a partner in Hogan & Hartson, a Washington, D.C.-based firm that advised the Bush campaign during the 2000 Florida election recount.
The Rehnquist court has been criticized for not hearing more cases generally and business cases in particular. The court, for instance, has repeatedly declined to rule on disputes over class-action cases, which pool multiple plaintiffs into a single lawsuit and are much-despised by corporations because they are expensive to defend and can lead to multimillion dollar payouts.
Having a Supreme Court member who understands important business issues could help persuade the other justices to take up more of those kinds of disputes, said Glenn Lammi, chief counsel to the conservative Washington Legal Foundation.
A more active Supreme Court doesn't mean that big business will win more cases, however. Supreme Court jurists often defy expectations. Justices Antonin Scalia and Clarence Thomas, two of the most ideologically conservative on the court, have ruled against businesses on the question of punitive damages.
If Roberts is confirmed before the Supreme Court begins its next term in October, he will have the opportunity to weigh in on a handful of important business cases. The court has agreed to decide three cases that deal with antitrust laws and two that center on when disputes should be decided in federal or state court. Companies typically prefer federal court, which they consider more predictable and sympathetic.
OK'd arrest for eating a french fry
In private practice, Roberts was one of the nation's leading appellate attorneys before he joined the bench two years ago. His record is generally pro-business.
In one of those cases, he successfully argued on behalf of Toyota Motor Co. (Research) that a woman with carpal tunnel syndrome working in the automaker's Kentucky assembly plant could not be categorized as a disabled worker entitled to have the company assign her to a job off the engine assembly line.
The Supreme Court ruled 9-0 in Toyota's favor in the case, in what was seen an important victory for businesses trying to limit the scope and remedies under that law. O'Connor wrote the opinion.
Roberts also represented large corporate interests opposing environmental controls.
Roberts has not written decisions in major business cases while on the Court of Appeals. He did write one decision dismissing a law suit by the family of a 12-year old girl who was handcuffed, arrested and fingerprinted for eating a single french fry at a Washington, D.C. Metro Station.
He sympathized with critics of the Washington Metropolitan Area Transit Authority's "zero tolerance" policy, saying the court was not happy about the events that led to the case.
"The question before us, however, is not whether these policies were a bad idea, but whether they violated the Fourth and Fifth Amendments to the Constitution," he wrote. "Like the district court, we conclude that they did not."
For a look at a recent business-related lawsuit, the consumer suit charging Teflon causes cancer, click here.
CNN/Money staff writer Krysten Crawford contributed to this report.