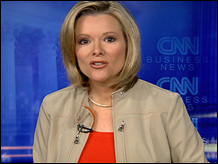 CNN's Gerri Willis shares five tips on how to beat record level gas prices. (August 12)
Play video

NEW YORK (CNN/Money) - Bonds climbed following a string of economic reports released Tuesday on inflation and industrial production.
The dollar edged higher against the euro and yen.
The benchmark 10-year note added 18/32 of a point to 100-8/32, to yield 4.22 percent, down from 4.28 late Monday, while the 30-year bond gained 30/32 of a point to 114-4/32 to yield 4.42 percent, down from 4.48 in the previous session. Treasury prices and yields move in opposite directions.
In shorter-dated debt, the five-year note rose 12/32 to yield 4.08 percent, and the two-year note climbed three ticks to yield 4.01 percent.
Treasury prices edged higher Tuesday morning following the Labor Department's release of the consumer price index (CPI), the most closely watched gauge of inflation pressure. Climbing 0.5 percent last month, the CPI topped economists' forecasts for a 0.4 percent rise. (Full story.)
But the so-called core inflation rate, which strips out volatile food and energy costs, inched up a moderate 0.1 percent for a third straight month, indicating that inflationary pressures may not be as serious as first thought.
Inflation hurts bonds as it erodes the value of the fixed-income investment.
Markets are debating whether higher fuel prices will drag on economic growth by pinching consumers' wallets or lead to a surge in inflation as companies raise prices to keep higher oil prices from biting into profits.
Gasoline prices jumped 6.1 percent in July, while oil prices have been plumbing uncharted territory in recent weeks, up 52 percent since the start of the year .
Bonds advanced early gains after the release of industrial production figures from the Federal Reserve, which revealed that output from U.S. factories, mines and utilities rose less than expected, climbing 0.1 percent in July. Wall Street analysts had expected output to climb 0.5 percent.
"Manufacturing growth has moderated in recent months, as the cycle moderates despite the hype about the new-found recovery," John Silvia, chief economist at Wachovia Securities told Reuters.
Meanwhile, U.S. July housing starts edged down 0.1 percent and came in at a 2.042 million annual rate but beat Wall Street forecasts for a 2.025 million unit pace. (Full story.)
Economists have been predicting some slowing in the housing sector in 2005, but housing starts and sales have remained robust and shown little sign of sustained easing.
In currency trading, the dollar edged higher against the euro and yen, with the euro buying $1.2360, down from $1.2367 late Monday and the dollar buying ・109.53, up from ・109.25 in the previous session.
____________________
Is now the time to bail on bonds? Click here.
Is there a bond shortage ahead? Click here.
For a look at bond rates, click here.
For the latest economic news, click here.
-- from staff and wire reports