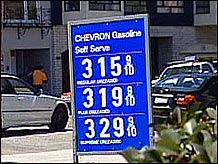 The middle class is struggling to keep up with rising gas prices. CNN's Christine Romans reports (August 16)
Play video

NEW YORK (CNN/Money) - Prices at the pump struck another record high Tuesday, according to travel club AAA's daily fuel gauge report.
The nationwide average price of a gallon of regular unleaded hit $2.524, up 4 cents from the previous day, according to AAA, the largest U.S. motorist organization formerly known as the American Automobile Association. In the last year, prices have gained nearly 67 cents, or about 36 percent.
The average price for a gallon of regular unleaded is highest in California at $2.765 and are lowest in Wyoming at $2.377.
The national average for premium is $2.777 a gallon, 73 cents higher than the year-ago average.
Retail diesel, meanwhile, is at $2.590, a gain of about 73 cents from last year's price.
AAA's report comes on the heels of another national survey released over the weekend that said gas prices broke $2.50 a gallon.
Gas prices have surged 20 cents over the past three weeks to $2.50 for a gallon of self-serve regular, according to the Lundberg Survey, which measures prices at 7,000 gas stations in every state.
Though both the AAA and Lundberg Survey reported record highs for gasoline, prices remain below their all-time highs when inflation is taken into account. According to Lundberg, gas prices were the equivalent of $3 a gallon during the Iranian revolution in the early 1980's.
-----------------------------------------
National average breaks $2.50 a gallon -- click here for more from the Lundberg Survey.
Wanna bet on gas at $3 a gallon? Click here.
Oil prices have to hit their tipping point at some time -- click here.