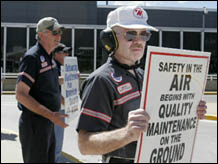 The strike by mechanics at Northwest failed to disrupt operations. CNN's Ali Velshi takes a closer look at how long the airline can keep flying. (August 22)
Play video

NEW YORK (CNN/Money) - The success of Northwest Airlines in keeping its planes flying despite a mechanics' strike could affect millions of unionized workers far from the already battered airline industry, labor experts said Monday.
Northwest's use of replacement workers, outside contractors and management to do the work of the members of the Aircraft Mechanics Fraternal Association who went on strike early Saturday could embolden other employers in demanding steep concessions from their unions, according to the experts.
"Two of the real problems that the labor movement is facing are coming together here -- outsourcing and the ability to replace workers during a strike," said Paul Clark, a professor of labor studies at Penn State University.
Gary Chaison, a labor studies professor at Clark University, said that Northwest's success in not having many flights cancelled could lead some employers to consider using replacement workers when they might not have done so before. And he said that could have an impact even at companies that never get to a strike, he said.
"I think it may have emboldened some employers to reassess their situation, making them realize if they plan carefully they can withstand a strike," said Chaison. "And that means, yes, you can ask for major demands from unions."
George Washington University law professor Charles Craver, an expert on labor relations and labor history, said the lack of support that the AMFA received from other unions at Northwest is in stark contrast to the situation in London earlier this month, when a strike by employees of an outside catering firm essentially shut down British Airways' operations at London Heathrow Airport.
The reluctance of other unions to join AMFA is a sign that union members here are already fearful about replacement workers and outsourcing.
"I think the flight attendants felt if they honored the picket lines, they'd be replaced in a moment," said Carver.
Northwest had announced it had about 1,000 replacement flight attendants ready to go if the 9,500-member Professional Flight Attendants Association had voted in favor of a sympathy strike. The union announced immediately after AMFA's strike began that its rank and file voted against authorizing a strike.
Experts say deep staff cuts at major airlines since Sept. 11 have created a pool of potential replacement workers for these skilled positions that require federal certification.
But some airline experts say that they still question whether the airlines could replace flight attendants and pilots as successfully as Northwest is replacing its mechanics.
"Maintenance work is often outsourced, especially at the low-cost carriers," said Philip Baggaley, Standard & Poor's senior airlines credit analyst. "I think it weakens labor's hand generally, but I wouldn't extend this to all other types of labor negotiations. American found out a number of years ago they couldn't fly through a flight attendant strike."
Still, some other industry experts said airlines have greater ability than ever before to take away the strike option from pilots and flight attendants.
"Nothing succeeds like success. If Northwest shows they are operating this thing effectively, then the pilots will be more compliant, more receptive to the additional concessions," said Henry Oechler, a partner at Chadbourne & Parke who specializes in airline labor relations at the law firm.
Oechler said the nation's largest, heavily unionized companies, such as General Motors, probably won't decide to follow Northwest and make contract demands that spark a strike -- all in order to use replacement workers.
"If you start to threaten replacement workers at GM, I think the unions would really come together," he said.
But there are plenty of major companies in industries outside of air travel that could decide to follow that path.
Craver said the Northwest strike, and the split of four major unions away from the AFL-CIO last month, may be seen in the future as watershed moments in the decline of labor's strength, the same way that the firing of striking air traffic controllers in 1981 by President Reagan is seen as the first signal to employers that they could use replacement workers.
"Right now organized labor is truly at a crossroads," said Carver. "This and the unions' failure to organize companies like Wal-Mart and new economy workers could be the death knell for labor."
For a look at how Northwest is operating in the face of the mechanics' strike, click here.