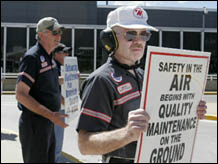 The strike by mechanics at Northwest failed to disrupt operations. CNN's Ali Velshi takes a closer look at how long the airline can keep flying. (August 22)
Play video

NEW YORK (CNN/Money) - A strike by union mechanics at Northwest Airlines dragged into its third day Monday, causing sizable delays at the nation's No. 4 airline.
While management tried to describe operations as normal, the airline's on-time performance record is apparently suffering, although it has kept most of its planes in the air.
The delays could ultimately affect its ability to maintain normal operations and attract passengers, particularly if the strike drags on. As of Monday afternoon, new talks have been set between management and the Aircraft Mechanics Fraternal Association, which represents 4,400 employees at the Eagan, Minn.-based airline.
The airline's ability to keep flying over the weekend sent Northwest (Research) shares up 5.2 percent Monday.
Officials with the AMFA scoffed at reports from management about "normal" operations at the airline, saying that a growing number of planes were grounded for needed maintenance and that many flights were being delayed. They also predicted flight cancellations would increase going forward.
And some outside observers said that their monitoring of Northwest operations over the weekend showed that there were widespread delays even if few flights were cancelled.
The Detroit News reported that a review of Northwest's Web site on Sunday showed that 29 of 59 nonstop flights from Detroit Metro to 10 top destinations were delayed or canceled, with most delays attributed to maintenance issues. The delays ranged from 10 minutes to several hours, according to the paper's report. A Northwest spokesman said Monday he couldn't confirm or deny that report.
Jamie Baker, an airline analyst at J.P. Morgan, estimated in a research note that on Saturday, Northwest departed on time 57.8 percent of the time. He said that he thought the airline would probably retain customer loyalty.
"You may be irritated that your flight is a bit late, but you're furious if the airline simply cancels it," he said. "Northwest's completion factors are testament to the adequacy of management's contingency plans. The airline is open and operating."
A Web site for business travelers, Joe Sent Me.com, in a random survey of 99 Northwest flights on its Web site each day found that only 46 percent were on time Saturday and only 53 percent were on time Sunday. Only two flights out of the 99 surveyed by the site were cancelled Saturday, and only three of the 99 on Sunday. That's within normal cancellation rates.
The average arrival delay of the flights that were delayed was just over one hour each day, but there were several flights Sunday with delays of 5 hours or more, said Joe Brancatelli, editor, publisher of the site.
"Very few flights were marked up as delays for weather," he said. "We saw things we've never seen before, like delayed for cleaning." Northwest's cleaning staff was also a member of AMFA.
Brancatelli said that the on-time performance could start biting into Northwest's revenue soon by scaring away business travelers.
"The leisure travelers will put up with some delays, maybe even five hours, but the business travelers, if they're delayed an hour, they'll start booking some place else," he said.
And Brancatelli said that the delays could also start to cause Northwest problems in the availability of flight crews, perhaps as soon as next week.
"Flight crews have maximum monthly duty times. While you're a pilot sitting on the ground, waiting out a delay, you're on duty," he said. "The pilot who is three hours delayed, then flies two hours, is considered on duty a full five hours. One or two more days like this, they'll be canceling dozens of flights, not because of mechanical problems but because of crew availability."
A Northwest spokesperson did not have an immediate comment on these outside estimates of its on-time performance, or the impact it could have on the airline.
Bankruptcy still possible
Though unions representing the pilots and flight attendants and other ground workers at Northwest did not strike in sympathy, the airline faces challenges as it tries to win concessions from them. The airline says it needs $1.1 billion in total labor cost savings to avoid a bankruptcy filing.
And continued high fuel prices could bring a bankruptcy filing even if the carrier wins the labor cost savings it is seeking, according to analysts.
"A bankruptcy filing will be a given if they don't get a concession from other unions," said Ray Neidl, airline analyst with Calyon Securities. "It's going to be one-on-one talks with each. It's a good sign these unions aren't supporting the mechanics, but it's by no means certain [the airline will] get what it needs."
In addition, Neidl said that even if the airline wins the $1.1 billion in annual cost savings it is seeking, bankruptcy is "still a question mark depending on where oil goes." He said the airline could file for bankruptcy by October without some relief.
Standard & Poor's put the company's debt, already mired deep in junk bond status, on credit watch for a possible further downgrade Monday.
"We did that based on how much they need to accomplish in less than two months with their other labor groups," said Philip Baggaley, S&P's senior airlines credit analyst. "This strike stretches out the likely time frame with the others unions at least a bit."
Baggaley said that Northwest's financial position is actually stronger than competitor Delta Air Lines (Research), and that if Northwest files for protection from creditors in October, it'll be due to a change in the bankruptcy law that takes place Oct. 17, rather than any immediate cash crunch
Baggaley said that Northwest will also be looking at the progress of proposed legislation that would give it more time to cover an estimated $3.8 billion shortfall in its pension funds when deciding whether to seek bankruptcy court protections.
"Those three factors, pension, labor and fuel prices, will likely be the major consideration as they come up to Oct. 17," said Baggaley.
Replacement workers
The airline was able to keep operating through the use of more than 1,200 replacement workers, in addition to more than 300 members of management and some outside contractors, particularly at operations away from its two major hubs in Minneapolis and Detroit.
While union officials question the ability of replacement workers to maintain Northwest's fleet long-term, airline management said that the replacement workers have an average of 14 years' experience working on aircraft, and they are confident they will be able to maintain Northwest's fleet as normal.
AMFA's position weakened in the early moments of the strike Saturday when the leadership of the Air Line Pilots Association and the rank and file of the Professional Flight Attendants Association both voted against staging sympathy strikes. The International Association of Machinists, which represents other ground workers at Northwest such as gate agents and baggage handlers, and which used to represent mechanics, is also not staging a sympathy strike.
The company's offer would have cut the top hourly pay for an AMFA member to $27.28, from its current level of $36.39. Reuters reported that the replacement workers are being paid $26.53 an hour. A Northwest spokesman confirmed the current and proposed AMFA pay but could not comment on the replacement worker's pay report.
Management had said it needs $176 million in labor cost savings from the mechanics union. The union said it made an offer that would have saved the airline the $176 million it sought, but without costing members their jobs. But management said the AMFA offer would only have saved about $100 million a year.
The airline has seen many other airlines win concession contracts from their unions, but so far the pilots union is the only Northwest union to agree to such a deal. The initial failure of the mechanics strike to stop operations could put more pressure on other unions to agree to the concessions the carrier is seeking.
Success in keeping the airline flying in the face of the strike could be a major blow to labor and could reverberate in labor-management negotiations across private industry in coming years, according to a number of labor experts.
(Click here for more on the broader labor implications of the Northwest strike.)
________________________________
For a look at the cash crunch that could cause a bankruptcy filing at Delta Air Lines, click here.
Check airline stocks here.