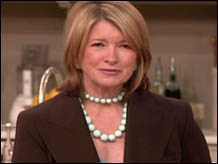 Martha Stewart talks about her upcoming daytime talk show, what sets it apart from the other shows and what we can expect to see.
Play video

NEW YORK (CNN/Money) - She's shaking off that not-so-chic ankle bracelet and getting ready to step back onto the airwaves -- but will investors and consumers take notice?
That's the question facing Martha Stewart – or M. Diddy, if you prefer her prison moniker – as she tastes freedom for the first time in months.
After a three-year tussle with the legal system that resulted in a conviction for obstructing justice and lying to investigators, Stewart was released from an extended house arrest at midnight.
During a news conference on Aug. 25 to promote her upcoming television shows, Stewart -- who sported a microphone on one ankle and her now-signature home confinement "bracelet" on the other -- said "I am very much looking forward to release from home confinement," though she added that she wouldn't be able to comment on her personal plans as she remains on probation for a year and a half.
But the media blitz surrounding her projects is in full bloom.
Stewart is gearing up to show the softer side of Martha through a new daytime television talk show, an "Apprentice" reality TV program, her $30 million deal with Sirius Satellite Radio for a 24-hour-a-day radio channel and an appearance on MTV's college network this fall.
"I'm looking forward to what we're doing and looking forward to the next few years of great productivity for the company," she said to reporters.
Too Much Martha?
The busy media lineup is a move industry observers hope will help jump-start her corporate empire, Martha Stewart Living Omnimedia (Research), as well as her own public image. But analysts are skeptical, worrying that all Martha all the time may prove to be overkill.
"At some point, she's going to have to focus on one thing rather than spreading herself out all over the place," said Dennis McAlpine, managing director of McAlpine Associates. "Let's face it: She's no Oprah Winfrey or Dr. Phil."
No, but she is Martha Stewart, and that brand name carries weight of its own. At least that's the hope of Stewart's aggressive public relations engine.
Stewart, for her part, appears confident in her own abilities to multi-task.
"I am a businesswoman, I am a homemaker, host of daytime how-to show and because I have all these diverse interests and jobs, I can go pretty seamlessly from one to another," she said, adding "I like a challenge."
But analysts worry that her love of challenges may prove to be challenging for the corporation she founded.
"In May of 2002, when the brand competed with others, they were doing so from the castle on the hill," said branding expert Robert Passikoff, president of Brand Keys Consulting. "Now they're in the moat with everyone else."
Passikoff said the company's PR gurus are hoping that aggressive promotion of Stewart's return will boost brand awareness and lure more advertisers to her flagship magazine, as well as win back some fans who have migrated to competitors like Chris Madden.
At the news conference last week, Martha Stewart Living CEO Susan Lyne said the daytime show is "a coming out party" for the company as "launches its next phase."
But Passikoff said the company might be better off separating the brand from its very human and fallible human namesake.
"Her brand was 100 percent invested in the human being and with someone like Martha, she couldn't afford to make a mistake," he said. "They're trying to restage her but there is a lack of trust on the part of the consumer."
And that's something Martha Stewart Living is desperately hoping to repair.
The company has been in a slump since Stewart's calls to ex-ImClone CEO Sam Waksal brought the regulators to her door. In its most recent second quarter report, Martha Stewart Living reported a loss of $33.5 million, or 65 cents a share, much wider than the $17.8 million, or 35 cents a share, the media company lost a year earlier.
The company said it was hurt by a $16.8 million charge associated with the vesting of certain warrants granted to Mark Burnett in connection with the production of the new "Apprentice" series -- a venture the corporation doesn't stand to benefit from -- but sees television revenue from Stewart's new talk show "Martha" adding between $45 million and $50 million in sales in the first season.
And advertising revenue has picked up, at least on the surface, but McAlpine said the uptick is misleading because it includes packages of magazine, television and radio advertising, not just ads at the flagship magazine.
"The real test for Martha will be whether we'll see advertisers really come back," he said.
He added that competition has heated up in the magazine space, as competitor Real Simple continues to eat away at the magazine's readership.
Stock heats up
But will Stewart's return mark an improvement in the company's stock performance?
Investors appear to be betting on the company as its founder is released. Since her press conference last week, the stock has jumped more than 26 percent. The stock hit a low of $8.76 on July 16, the day Stewart was sentenced to five months in a federal prison and five months of house arrest, and is now trading only 14 percent off its 52-week high.
"The stock price has become divorced from its underlying fundamentals driven by investor enthusiasm surrounding the television shows," said Gary McDaniel, media and leisure industry analyst at Standard & Poor's Equity Research. "It may take until the shows debut or until investors see that earnings aren't coming in for the stock to crack."
McDaniel, who rates the company a strong sell, said it's inevitable for the company's stock to decline and he said investors should sell before shares drop. He has a price target of $17 for Martha Stewart Living.
McAlpine, who has a price target of $10 said the stock at its present level of about $32 a share is out of sync with the company's prospects.
"The competitive nature of the market has changed incredibly and the company is not a unique situation anymore," he said. "There's still an awful lot of controversy surrounding Martha herself which will continue to drive advertisers away."
----------------------------------------------------------------------
To read more about Martha and other newsmakers, click here.
This is an update of a story that originally ran Aug. 25