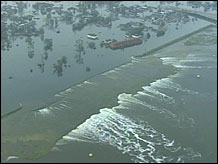 CNN's Christine Romans explains how Hurricane Katrina will affect the prices of a variety products (September 1)
Play video

NEW YORK (CNN/Money) - Despite the extraordinary devastation wrought by Hurricane Katrina, corporations will not be able to exclude costs related to the hurricane when reporting their financial results, according to a published report.
In a statement to the Wall Street Journal, the Financial Accounting Standards Board, which makes the accounting rules for U.S. publicly traded companies, said "as tragic as hurricanes and other natural disasters are for everyone affected, unfortunately every year many businesses across the country are affected by these types of events and thus they do not represent an unusual and infrequent occurrence to businesses or to insurers."
Items considered "extraordinary" on a company's income statement are separated from costs that occur as a normal part of business operations. Analysts and investors tend to exclude these items when assessing financial results to try to better assess how a company's business is performing.
Rules tend to be stringent for declaring an item "extraordinary." As hurricanes and other natural disasters -- regardless of how catastrophic the damage -- are common, particularly in the southeastern U.S., corporations have to assume the risk of damage.
The FASB task force will meet in mid-September and could examine the issue more closely, the news report said.