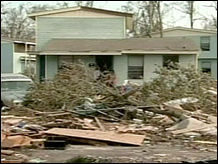 CNN's Tom Foreman reports on industries poised to profit from Hurricane Katrina's destruction. (October 2)
Play video

(CNN) - A south Florida man who claimed he was flying supply and evacuation missions to aid victims of Hurricane Katrina has been arrested and charged in the first federal indictment stemming from a wave of suspected phony Internet solicitations for hurricane relief, federal officials announced Monday.
Gary Kraser of Aventura, Fla., was charged in a four-count indictment for wire fraud for allegedly collecting nearly $40,000 from 48 people in two days of soliciting hurricane-relief funds through a Web site, www.airkatrina.com.
Prosecutors charged Kraser with falsely claiming on the Web site and elsewhere on the Internet that he was piloting flights to Louisiana to provide medical supplies and evacuate children in critical medical condition.
Kraser claimed he had organized a group of Florida pilots to help him in these relief efforts and needed funds to purchase fuel for the supposed missions, according to the indictment.
The government says Kraser had posted emotional cries for help to encourage people to send in money.
Assistant Attorney General Alice Fisher said in Washington that Kraser had illegally enticed people to provide dollars to the Web site.
"If you went on the Web site, it said give money here to provide fuel for airplanes to go into the disaster area and give medical supplies, humanitarian relief and take children and others who are in need of medical relief back to safety," Fisher said.
In one Internet communication, posted on Aug. 30, Kraser claimed he had just returned from Louisiana, writing that he had seen people on their rooftops crying for help, and that he had seen dying people and pets.
"I'm so sorry I couldn't do more. ... I'm crying and hugging my dog next to me now. ... I will hear these screams for the rest of my life," Kraser said, according to the indictment.
Kraser claimed he had saved a 7-month-old baby "who is undergoing transplant surgery at this moment I am writing," the indictment said.
Fisher, who heads the Hurricane Katrina Fraud Task Force, vowed punishment for Kraser.
Federal authorities said that because they were tipped by a suspicious caller, law enforcement officials could track down the case in two days while the funds were still in an electronic account, and could return most of the gifts to the donors.
"It is simply unconscionable and intolerable that anyone would seek a personal financial benefit from the horrible human tragedy caused by Hurricane Katrina," said U.S. Attorney Alex Acosta in Miami.
-----------------------------
There are now some 4,600 sites advertising Katrina relief services, and most of them are under suspicion of being bogus, click here for more.