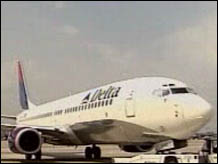 CNN's Maggie Lake looks at the bankruptcy filings of Northwest and Delta. (September 14)
Play video

NEW YORK (CNN/Money) - High jet fuel prices got most of the blame when two major airlines filed for bankruptcy, but years of management mistakes were equally culpable, industry experts said Thursday.
The bankruptcy filings by Delta Air Lines (Research) and Northwest Airlines (Research) Wednesday mean that half of all airline seats in the United States are now on planes operated by bankrupt carriers, which have struggled to compete with low-cost, low-fare carriers. United Airlines and US Airways had previously filed for protection from creditors.
The industry has lost a whopping $40 billion over the past five years, analysts and consultants estimate, even counting profits at younger, low-cost carriers like Southwest Airlines (Research) and JetBlue (Research).
But while management might want to blame union leaders and volatile fuel prices, several experts said that mistakes by former top managers -- many of whom have been replaced since an industry downturn started in 2001 -- are still haunting the major carriers.
Labor relations
Clifford Winston, a senior fellow at the Brookings Institution, said problems with airline labor negotiations stretch back more than 25 years to a time when
airfares were regulated and airlines didn't need to worry about low-fare rivals.
"Regulation protected the carriers from competition and inflated fares above costs," said Winston, adding, "Labor said, 'We want some of the spoils.' They were not working together to be efficient, not working to be innovative and competitive; they were working to divide the spoils. Wages were inflated accordingly."
Winston said that mentality lived on even after deregulation in 1978, since some of the earliest low-fare carriers, like People Express, didn't survive. But eventually other upstart carriers grew, without that mindset among top management, or labor.
Over the next 20 years, there were downturns in the industry, during which unions were asked for wage concessions. But they were used to negotiating rich contracts to recoup the losses when times were good, and management was used to giving it to them.
So when the economic boom of the late '90s brought fat profits to the airlines, management was ready and willing to give union workers their richest contracts ever, contracts that dragged on long into the current downturn.
Delta Air Line's pilots, for example, were being paid under a pre-9/11 labor contract until they finally agreed to some concessions in October 2004.
Fare structure
Low-fare carriers didn't just hurt the major airlines by stealing leisure travelers looking for bargains. The current downturn came because business fares, which were sometimes five times higher than the cheapest fare on the same plane, also drove business travelers to the upstarts. This was crucial since business flyers had long been the most profitable customers for many big carriers.
"The airlines really focused on creating a business model where the front of the plane paid for the back of the plane," said Michael Allen, consultant with Back Aviation. "It certainly allowed the [big] carriers to make more profit in the 1990s than they had before, but it invited the competition to come in."
Airline executives were slow to grasp the problem. They focused on meeting low-fare competition by cutting their already low leisure fares but leaving business fares much higher, thinking those customers wouldn't leave for the upstarts.
"During the 1990s they were getting used to a cushy environment where they could charge [business travelers] what they wanted," said Michael Boyd, a consultant and president of the Boyd Group. "They assumed that, 'We're a premium airline, [so] you'll pay a premium price.' They should have known better."
Another issue for the major carriers: planes. One advantage most low-fare carriers have is a more streamlined fleet of aircraft -- often only one or at most two aircraft types. That allowed them to limit maintenance costs by not needing to carry as many expensive spare parts, and they could keep labor costs down, since pilots could fly virtually any aircraft in the fleet.
"In some cases, the airlines were buying one of just about everything, because they thought they had an application for everything," said Allen. "It turns out they were wrong."
Will mistakes be fixed?
During the past five years, most of the major airlines have taken steps to narrow the gap between business fares and leisure fares. Many have trimmed the variety of planes they fly, though none are close to a single aircraft type seen at many low-cost carriers. And airline unions for the most part have agreed to the concessions that management has sought.
The question is, what will happen if fuel prices drop, demand for business travel improves further and profits return to the industry? Will current management at the big carriers -- most of whom got their current jobs after 9/11 -- repeat the mistakes of the last boom?
"The current crisis is not just a cyclical downturn that was seen in the past. The lower-cost competitors are here to stay," said Winston at Brookings. "They will either learn from these mistakes and solve them or they won't survive."
For a look at Wednesday's airline bankruptcy bloodbath, click here.