For more on Bush's speech, click above.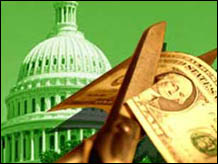 Republicans in Congress are likely to delay tax measures in the wake of Hurricane Katrina. CNN's Andy Serwer reports. (September 13)
Play video

NEW YORK (CNN/Money) - With President Bush promising a big push to rebuild New Orleans and the Gulf Coast in the wake of Hurricane Katrina, many are wondering how the government's going to pay for all this.
Speaking at the White House Friday afternoon, Bush said that although rebuilding the Gulf Coast would be expensive, he was "confident we can handle it and our other priorities." He said the government will "have to cut unnecessary spending" and should not raise taxes.
He declined to give an estimate for how much the rebuilding would cost or suggest where the money might come from.
The president said in a nationally televised speech Thursday night that the federal government will pick up most of the tab for the relief effort. Congress has already approved $62 billion in aid, and reconstruction costs are estimated to be at least $200 billion.
Some analysts worried that Katrina could hurt the economy by raising the budget deficit and pushing up interest rates. The impact of higher rates, could be far-ranging, some economists said, affecting everything from economic growth to how much you pay in taxes to the rate on your mortgage.
But others said this was not a big risk, and that the extra federal spending may end up giving the economy a boost.
Before Katrina hit, the Congressional Budget Office, the non-partisan budget arm of Congress, estimated that the federal budget deficit in fiscal 2006, which starts next month, would be $314 billion, down from an estimated $331 billion in the current fiscal year.
A spokeswoman for the CBO said Friday it was still too soon to gauge the impact of increased spending on next year's deficit.
But Friday morning, White House economic adviser Allan Hubbard said that the recovery effort would add to the deficit, though he added that these would be one-time costs, and echoed Bush's comments about not raising taxes. The Bush administration still hopes to make permanent tax cuts that are set to expire in 2008, such as the 15 percent tax rate on capital gains and dividends.
Hubbard also said that Bush remains committed "to cutting the deficit in half by 2009." (For more on Hubbard's comments, click here.)
Treasury Secretary John Snow said in a speech Friday that "with continued economic strength," the United States "will be able to help our neighbors and continue to reduce our deficit."
Increased spending a cause for concern...
Still, some are skeptical. Ethan Harris, chief U.S. economist with Lehman Brothers, had been estimating a deficit of $350 billion before Katrina and now expects the budget deficit to reach a record $450 billion in the coming fiscal year.
"We know there is going to be a huge amount of money spent but the timing of the spending is hard to figure out," he said.
Others believe the deficit could go even higher.
"The budget deficit is going to have to go up over the next three to seven years," said Barry Ritholtz, chief market strategist for Maxim Group, a New York-based investment firm, adding that it wouldn't be a surprise if the deficit wound up as high as $500 billion in fiscal 2006.
What's more, Ritholtz worries that a growing budget deficit could slow down the economy.
"When the government is running an enormous deficit, that has the tendency to suck up capital that would otherwise wind up in private sector," he said.
Ashraf Laidi, chief currency analyst with MG Financial Group, added that even though Hurricane Katrina is a one-time event, it might be wise for Congress to reconsider its stance on making tax cuts permanent in order to avoid a ballooning deficit.
"The budget deficit is on the radar again due to the emergency spending packages and the lack of any freeze or phasing out of tax cuts," Laidi said.
...or economic stimulus?
Others say that the government should borrow more money to pay for the rebuilding of the Gulf Coast and that the increased debt will not have a major burden on the economy.
"In the end, we can work this out. It is $200 billion in spending for a $12 trillion economy," said Mark Vitner, senior economist with Wachovia Corp. "It's just a matter of how we finance it, not whether or not we can afford to do it."
Vitner argues, however, that even though the government may not raise taxes to pay for the reconstruction, the consumer is still likely to feel a pinch from higher interest rates that should come about as a result of the increased borrowing.
"When the federal government increases the budget deficit it increases interest rates on everybody, so it is like a tax increase on borrowing. What that means is that mortgages will be more expensive," Vitner said.
Lyle Gramley, a former Federal Reserve governor and now senior economic advisor with the Stanford Washington Research Group, agreed that an increase in the budget deficit next year would not be detrimental since it is necessary to rebuild New Orleans.
He said federal spending should also help stimulate the economy, and that could offset some of the effects of higher interest rates.
Still, Gramley believes that the government does need to do a better job of reining in spending overall to bring the budget deficit down over the long haul.
"We still face a longer-range deficit problem and that will be exacerbated by increases in Medicare and Social Security payments," Gramley said. "It would be helpful to bring our budget deficit down longer-term. I worry more about that than this temporary increase in the deficit."
For more about Bush's recovery plan, click here.
Will the Fed shrug off Katrina? Click here.
-- CNN's Washington bureau contributed to this report