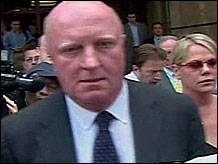 Tyco's chief executive and chief financial officers are sentenced to prison. CNN's Susan Lisovicz reports (September 19)
Play video

NEW YORK (CNN/Money) - Ex-Tyco CEO Dennis Kozlowski received 8-1/3 to 25 years in prison Monday for his part in stealing hundreds of millions of dollars from the manufacturing conglomerate.
Former Tyco CFO Mark Swartz got the same sentence from Manhattan Supreme Court Judge Michael Obus.
Judge Obus also ordered Kozlowski and Swartz to pay $134 million back to Tyco, and Kozlowski was fined $70 million and Swartz $35 million -- bringing total fines and restitution to $239 million.
The former Tyco executives were ordered to start serving their sentences immediately and were led from the courtroom in handcuffs.
In a crowded New York state courtroom, the prosecution had asked for the maximum penalty of 15 to 30 years for both men, while Kozlowski's defense had focused on his character as a "family man."
In June, Kozlowski and Swartz were found guilty on 22 of 23 counts of grand larceny and conspiracy, falsifying business records and violating business law. Both men say they will appeal the verdicts.
That verdict came after the first trial against Kozlowski and Swartz ended in a mistrial in April 2004 after the sole juror holding out for an acquittal reported receiving threats.
During the first trial, prosecutors focused on what they called misuse of Tyco's money, such as a $2 million birthday party Kozlowski threw for his wife on the Italian island of Sardinia and a $6,000 shower curtain allegedly purchased with company funds.
But in the second trial, which started last January, prosecutors changed their strategy and narrowed their case.
The sentence was a clear signal that judges at the state level -- who have more discretion over sentencing than judges on the federal bench -- are equally concerned with sending tough messages to executives charged with "white-collar" crimes.
If Kozlowski and Swartz show good behavior, they could be eligible for parole after 6 years and 11 months, according to Linda Foglia, spokeswoman for the New York State Department of Correctional Services.
The pair will spend time at an interim facility, where they will undergo a series of tests and reviews, before a prison is designated for them. Since they received a sentence of more than six years, they likely will be sent to one of New York's maximum security prisons, which include Attica and Sing Sing.
Substantial sentence
As the first high-profile corporate fraud case tried in a state court, legal experts had been watching the sentence to see whether state judges would follow the lead of judges in federal courts, who have imposed severe sentences on corporate executives found guilty of white collar crimes.
Bernie Ebbers got 25 years for his role in the collapse of WorldCom. Adelphia founder and ex-CEO John Rigas also received a hefty sentence of 15 years. Both were tried in federal court.
"Now anyone who wants to know what trial court judges in New York state are doing when confronted with conviction in a high-profile corporate fraud case, the answer is imposing a significant sentence," former prosecutor Jacob Frenkel said.
"Even on the short end of the range, it is a substantial sentence," he said.
The sentences were harsh, but nowhere near as severe as those in previous cases, said Greg Wallance, a former federal prosecutor now at Kaye Scholer LLP in New York.
"It's a much more lenient sentence than handed out in federal cases, and I think that partly reflects the fact that the company was not forced into bankruptcy or destroyed but is doing relatively well," he said.
But he added, the conditions for Swartz and Kozlowski will be harsh. State prisons tend to house more violent criminals, such as those prosecuted for rape and homicide. White-collar criminals sentenced to federal prison often go to minimum-security facilities derisively dubbed "Club Fed."
Few were surprised that Kozlowski and Swartz received much more than a slap on the wrist, saying courts are feeling public pressure to impose harsher sentences.
But long sentences aren't necessarily warranted because the same deterrent effect could be accomplished by giving less time, said Ellen Podgor, professor at Georgia State University College of Law.
"You need imprisonment clearly. It's just the amount needs to be proportional to what we're trying to accomplish in the criminal justice system," she said. "If we're trying to make sure these crimes aren't committed in future, you don't need sentences like this."
------------------------
For more on the verdict in Kozlowski and Swartz's second trial, click here.
Intrigued by corporate scandal? Click here for more.