NEW YORK (Business 2.0) - Legendary American geophysicist M. King Hubbert famously predicted in 1956 that U.S. oil production would peak in the early 1970s. Though ridiculed at the time, his prediction -- today known as "Hubbert's peak" -- came true, and domestic production has declined ever since.
In the coming decade, however, American oil production could be on the upswing again. It isn't likely to be the controversial proposed drilling in the Arctic National Wildlife Refuge that does the trick, though that would boost production. The bigger kick could come from oil hidden in sedimentary rock known as oil shale found in vast quantities throughout western Colorado and parts of Utah and Wyoming.
Government scientists have estimated that the United States is sitting on 2.6 trillion barrels of reserves in oil shale form, spread across an area of nearly 16,000 square miles of federal and privately owned land. The oil-rich terrain is the single largest untapped petroleum reserve in the world.
Like oil sands, oil shale is witheringly expensive to exploit; such efforts in the late 1970s famously collapsed when oil prices dropped from the highs of the Iran hostage era. The technology for extracting oil from shale has improved drastically since those days; industry leader Shell has come closest to perfecting a commercial process but still remains several years away.
Shell's process involves drilling a series of holes, each as deep as 600 feet, which are then filled with heavyduty electric heaters that warm the rock to 700 degrees Fahrenheit. The heating process releases a combination of oil and gas that can then be pumped out of the well. "We're confident that high-quality crude can be produced from shale for roughly $30 per barrel," says Shell spokeswoman Jill Davis.
Shell, Chevron, and six other firms have recently descended on the western slope of the Rocky Mountains, submitting applications to the Bureau of Land Management, which manages most of the oil shale reserves, to drill test wells. The U.S. Energy Policy Act, passed in August, requires that the agency issue licenses for research and development by February. Prices will have to stay high for oil shale to pay off, but the upside could be enormous.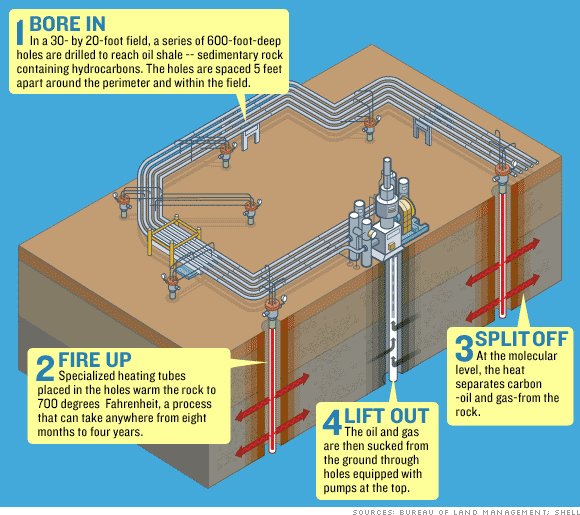 Next: Revitalizing old fields