E-commerce success fuels photojournalism fund
A Web entrepreneur helps young photojournalists focus on injustices worldwide.
Photos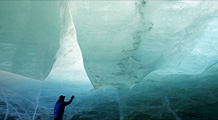 (Fortune Small Business) -- According to a Native American myth, crows look back with one eye and into the future with the other. Serial entrepreneur Andy Patrick, 47, applied that philosophy to create FiftyCrows Foundation, a nonprofit that funds photojournalists who document injustices throughout the world.
Patrick's first venture, a shopping service for his snowbound neighbors, was a success before he turned 11. His biggest triumph was Adjacency Brand New Media, an e-commerce Web site developer that he launched in 1995. Patrick and his partners sold Adjacency in March 1999 for $67 million in stock, which proceeded to triple in value over the next 12 months.
"Being lucky is a big part of success," he says. "I decided to turn my good fortune into something that could bring about positive change."
The sale of Adjacency provided the capital for FiftyCrows. In October 2001, Patrick set up the foundation with $740,000 in seed money. Today FiftyCrows uses proceeds from the sale of works by established photographers (think Bruce Davidson, Eve Arnold and Sebastião Salgado) to fund photojournalists whose work shows potential to improve the world.
Over the years, FiftyCrows has raised and distributed roughly $300,000 in grants to young artists such as Stephanie Sinclair, who produced a searing photo essay about child marriage in Aghanistan, and Victor Sira, who documents the hardships of illegal immigrants from Central America and Mexico.
In addition to cash grants, FiftyCrows provides young documentary photographers with media tools to help showcase their work more effectively. Each grantee receives a free Web site hosted by Patrick's most recent for-profit venture, liveBooks.com, which creates Web-based applications for professional photographers. And the FiftyCrows Foundation - along with National Geographic - recently sponsored the publication of David Elliot Cohen's book What Matters, in which noted writers and photographers (including Sinclair) zero in on crucial contemporary issues such as genocide, poverty and global warming.

To write a note to the editor about this article,
click here
.



My dream is to launch my own business someday. Now that it's time to choose a major, I'm debating if I should major in entrepreneurial studies or major in engineering to acquire a set of skills first. Is majoring in entrepreneurship a good choice?
More

- Spate, Orange, Calif.

More Small Business

Next Little Thing 2010