Love in the time of recession
The average price of a wedding has dropped nearly $6,000 as brides scale back. That's grim news for companies that cater to the industry.
Photos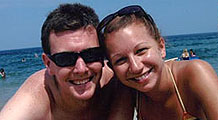 NEW YORK (CNNMoney.com) -- Last week, a bride-to-be visited online wedding hub TheKnot.com (KNOT) and posted a wistful set of questions to her virtual sisters. "Fiancé got laid off a month ago. We're trying to keep our wedding the way we had originally planned. How many of you are working through similar situations, and how do you...adjust your wedding/honeymoon plan?"
About three dozen brides posted replies, giving advice that ranged from cutting guests lists and postponing honeymoons to serving "heavy appetizers at a location that needs no decoration."
Jenny Woods, a journalist in Minneapolis, will spend the morning of her wedding in September buying flowers from a neighborhood farmer's market with her fiancé, putting the extra money they would have spent on a professional florist toward the one thing they wouldn't relinquish: booking their favorite local band.
"We share a passion for music," she says. "We met at a concert, and my fiancé, a music journalist, proposed in a CD review."
Like these women, many brides of 2009 lament the fact that their weddings will fall during one of the worst economic times in recent history, forcing them to scrimp. According to The Wedding Report, a Tucson, Ariz.-based research firm, the average amount couples are spending on a wedding is expected to drop in tandem with the economy, decreasing at least 10% in 2009. In 2008 the average price for a wedding rang in at $21,814. (That's down from $27,490 in 2007.)
"Couples aren't cutting things out dramatically, but they are scaling back," says Melissa Bauer, senior public relations manager with The Knot. "You're seeing more off-season wedding dates and a lot more Friday night or Sunday brunch weddings."
For vendors catering to the industry, that means a slight dent in revenues. In its third-quarter report released in November, The Knot reported that its registry revenues were down about $200,000 and that some of its national advertisers - including many small consumer-goods companies and retailers - canceled and delayed their ad plans.
Even the Ritz-Carlton, the upscale hotel chain that offers brides luxurious reception locales, hinted that wedding revenues have dropped, due in part to couples booking less "over the top" receptions. In an e-mail, Vivian Deuschl, one of the company's vice presidents, writes, "You can assume if weddings are somewhat smaller, the revenues can also be less."
Small businesses are getting hit a little harder, especially the florists and bakeries that are still sore from battling a slow 2008 holiday season.
Smaller cakes
"We're down, financially," says Susan Morgan, founder of Elegant Cheese Cakes in Half Moon Bay, Calif. Morgan, whose business is split between weddings and mail-order catalogs such as Neiman Marcus, bakes and sculpts artistic cakes that sell for as much as $4,500.
To cope with the weakening economy, she cut three staffers, turned off one of her freezers, and is trying to renegotiate her lease. But to deal with penny-pinching brides, Morgan won't back down on price or bake cupcakes. Instead, she'll suggest cake centerpieces - smaller versions of her desserts to place on each table - or a small, decorated cake accompanied by a "backup" sheet cake, a solution that runs around $1,000 less than a bigger, fancier cake.
"I don't want to compromise the quality and style of what we're doing," she says. "The backup sheet cake is a nice way to economize."
After a bumpy fall, Shirley Tan, owner of online wedding-favor retailer American Bridal, started wooing brides to her Web site by promoting big discounts on cosmetic and tote bags. By the end of January, traffic to her site had doubled and sales were steady - not down - for the first time since summer.
"Instead of sitting on inventory, we're being aggressive and selling off what we know would eventually sell later, even if it's at or below cost," Tan says. "The idea is to free up cash and build up a reserve."
Yet even as industry players watch couples pare down their lists and forgo pieces of their original plan, they like to point out that people are still getting married, economic meltdown or not.
"We're in a recession, but that won't stop people in love," says Mike Hough, a licensed minister and wedding coordinator in Kauai, Hawaii. "People got married in the Blitz in London, in concentration camps in Germany, in good times and bad."
To that end, many wedding planners - who have captured the business of about 15% to 20% of the nation's brides - report that business is up. Hough says that his bookings for 2009 weddings have increased by about 5% over the same time last year. Calandra Terry, a full-service consultant in Huntsville, Ala., has 12 weddings on the books, the same number of events she used to do in one year. And Robbin Montero, who books high-end weddings in northern California's wine country, received more than 300 inquiries last year and recently hired her third associate.
"Death, taxes, and weddings," she says. "Weddings are recession-proof; they're always going to happen."

To write a note to the editor about this article,
click here
.



My dream is to launch my own business someday. Now that it's time to choose a major, I'm debating if I should major in entrepreneurial studies or major in engineering to acquire a set of skills first. Is majoring in entrepreneurship a good choice?
More

- Spate, Orange, Calif.

More Small Business

Next Little Thing 2010