7 regional banks fail
6 subsidiaries of a Georgia bank go down, bringing the tally to 16 for the state in 2009. A N.Y. bank is the first FDIC-insured bank in the state to fail since 2004.
Map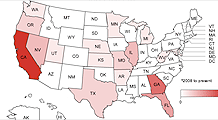 DID YOUR BANK FAIL?
For more information visit www.fdic.gov
Don't panic – your savings are insured
Keep paying your loans – the terms remain the same.
The FDIC will notify you by mail about your accounts/loans.
Contact the FDIC with any questions until further notice
If your bank is purchased, you will be contacted by your new bank.
NEW YORK (CNNMoney.com) -- State regulators shut down seven regional banks Friday, the Federal Deposit Insurance Corporation said, bringing the total number of banks to fail in the United States to 64 this year.
Six of the banks that closed were subsidiaries of one larger bank, the Security Bank Corporation, based out of Macon, Ga. So far in 2009, 16 banks have failed in Georgia, more than in any other single state.
The State Bank and Trust Company, headquartered in Pinehurst, Ga., will take over all of the deposits of the six bank subsidiaries that failed. As of March 31, the six subsidiaries had total assets of $2.8 billion and total deposits of approximately $2.4 billion.
The six failed Georgia banks had a total of 20 branches, and the branches will reopen Saturday as branches of State Bank and Trust Company.
Earlier in the evening, Waterford Village Bank, of Clarence, N.Y., was shut down, and the FDIC was named the receiver. Evans Bank, N.A., headquartered in Angola, N.Y., took over all of the deposits of the failed bank.
The last time an FDIC-insured institution was closed in New York state was more than five years ago.
As of March 31, Waterford Village Bank had total assets of $61.4 million and total deposits of $58 million. The single branch of the failed bank will reopen Monday as a branch of Evans Bank, N.A. and customers will automatically be transferred over.
Friday's seven closures will cost the FDIC fund $812.6 million, bringing the total cost for failed banks to $14.21 billion this year. That compares with $17.6 billion in all of 2008. The number of bank failures so far in 2009 has more than doubled last year's total of 25.
Smaller regional banks have been especially hard hit during the recession. Many collapsed as local residents and commercial real estate developers that took out loans have been unable to pay them back.

Features

These Fortune 100 employers have at least 350 openings each. What are they looking for in a new hire? More

It would be the world's second-biggest economy. See how big companies' sales stack up against GDP over the past decade. More