SBA readies emergency biz loans
Agency has 15 days to create guidelines for $255 million emergency lending initiative approved by Congress.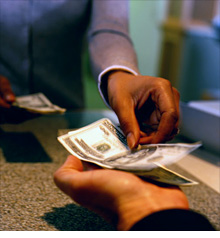 Photos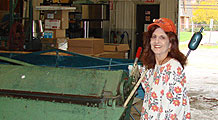 Ali Velshi & the CNN Money Team take on the dismal February jobs report. How will the job market recover?
Friday at 11 p.m. ET
NEW YORK (CNNMoney.com) -- Small businesses owners struggling to keep up with their bills may see some relief from a new $255 million emergency loan program authorized this week as part of the economic recovery bill.
Congress is pushing for the money to start flowing fast: It gave the Small Business Administration just 15 days to issue guidelines for the brand-new program.
Called the Business Stabilization Program, the initiative will offer loans of up to $35,000 that are essentially interest-free. The loans will only be available to companies that already have bank-issued business loans - Congress wants the new loans to be used to make interest payments and pay down principal on existing debt.
The loans can be used to make payments for up to six months, and no repayment on them will be due for a year. Businesses must fully repay their stabilization loan within five years.
The loans won't be coming directly from the SBA. Instead, the agency will offer a 100% guarantee - something it has never done before - to banks that issue the loans. If the business owner defaults, the SBA will pay off the debt.
The SBA will also fully subsidize the interest on the loans for their entire duration, making them low-cost for business owners and largely risk-free for banks.
Entrepreneurs ready to race out and apply for a loan will need to be patient a bit longer, though. Faced with a tight deadline to create an entirely new program, the SBA is still working out the details.
"We want to get everything in the bill in place as quickly as we can," said SBA spokesman Mike Stamler. "We're doing the best we can."
The SBA hasn't started discussions with banks about how the program will work, but lenders expressed cautious optimism that it will help strapped small businesses.
"We have plenty of customers that would be interested in that type of loan," said Michael Downes, chief lending officer of Unity Bancorp (UNTY) in Clinton, N.J. "We just have to guard against throwing good money after bad."

Rising defaults
Unity issued more than 150 SBA-backed 7(a) loans last year, totaling $73 million. But like many SBA lenders, it curtailed its lending after the economy's sharp deterioration at the end of 2008. Instead of extending loans throughout the East Coast, the bank is now focusing only on its immediate geographic area around New York and New Jersey.
Defaults and delinquencies have increased as borrowers struggle to keep up with their bills, Downes said.
One Georgia Bank in Atlanta became an SBA lender less than a year ago, in April. In its first six months in the program, it issued 14 loans. So far, none of those loans has gone late on payments, but President Chuck Lewis said he sees demand among business customers for options that will free up cash and give them flexibility with their bills.
"Any time there's a facility available for a small business owner to help them meet payroll or help them expand their cash flow, it's going to be a positive for that small business owner," he said.
The SBA is working to create the new program with fairly vague guidance from Congress and without a permanent leader in place. A confirmation hearing for President Obama's nominee as the agency's administrator, Karen Gordon Mills, has not yet been scheduled. In past presidential transitions, the SBA spot has gone unfilled until April or later.
Since Obama's inauguration, 30-year SBA veteran Darryl Hairston has been running the agency as its acting administrator.
The SBA's spokesman said the agency is scrambling to make policy and logistics decisions as soon as possible to begin implementing the array of new initiatives authorized in the stimulus bill signed by the president Tuesday.
The bill allocated millions in additional funding for several existing SBA programs, including the agency's microloan initiative and its flagship loan guarantee programs.
Ramping up those already-running programs to expand their capacity will be easier, Stamler said, than building structures for the two wholly new initiatives Congress created, the stabilization loans program and a new secondary market guarantee authority.
However, those two new programs are the ones Congress wants action on the quickest. It gave the SBA less than three weeks to issue emergency regulations for each.
For the stabilization loans, Congress allocated $255 million to fund the program through September 2010. Since that amount covers only the costs and subsides of the program, it can be used to fund several billion in total loan volume; the SBA is still working out the formulas to calculate how far the cash will stretch.
Only banks already certified to participate in the SBA's loan guarantee programs will be eligible to make stabilization loans. But the agency expects the loans themselves to be available to any small business customer at participating banks, regardless of whether or not the customer's existing loan was actually made through the SBA's guarantee program. (To find out whether your bank is an SBA lender, click here and go to the SBA's resource page for your geographic area.)
As the SBA pulls together its guidelines, lenders and business owners are eager to tap the new line of capital.
"One of the reasons that we were proactive in getting involved in the SBA was because we saw the economy beginning to weaken," said One Georgia Bank's Lewis. "Any time the economy weakens, it's going to be the small businesses that will lead the country out of an economic spiral."

To write a note to the editor about this article,
click here
.



My dream is to launch my own business someday. Now that it's time to choose a major, I'm debating if I should major in entrepreneurial studies or major in engineering to acquire a set of skills first. Is majoring in entrepreneurship a good choice?
More

- Spate, Orange, Calif.

More Small Business

Next Little Thing 2010