Training entrepreneurs to save cities
Now starting its second year, the government's Emerging 200 program aims to boost job growth by training inner-city business owners to grow their companies.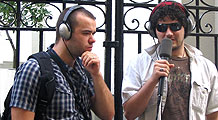 The government's Emerging 200 program aims to boost job growth by training inner-city entrepreneurs to expand their businesses. Here's how it's playing out in 5 cities.
Map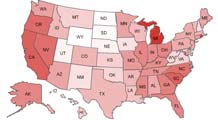 DETROIT (CNNMoney.com) -- In the midst of a struggling economy, the Small Business Administration is hoping to create jobs and generate wealth in hard-hit urban communities by boosting small-business growth through its Emerging 200 initiative.
The six-month program, which launched last year and began its second session a month ago, aims to provide training to small-business owners in 15 major metropolitan areas that have experienced flat or negative job growth rates in recent years. Initially intended to train 200 entrepreneurs per session, the program has attracted enough interest that around 215 companies have been accepted for 2009.
The project's goal is to provide talented entrepreneurs with the skills and contacts they need to grow their companies and create more jobs in their communities.
"We know that small business can play a role in economic recovery," said Jack Bienko, the SBA's deputy director for entrepreneurship education.
Each participating E200 business must be headquartered in an inner city, generate $400,000 or more in annual revenue, and be at least three years old. The group's business owners attend classes every other week, which are hosted by officials from local SBA branches or by partner organizations such as chambers of commerce. On the off weeks, the attendees gather for peer-group sessions, at which smaller groups of four or five participants collaborate on class homework and discuss the ups and downs that their businesses face.
At the end of the six-month program, E200 participants walk away with a written, three-year growth plan - a helpful document to have handy for entrepreneurs looking for business loans or investors.
Drafting such a plan helped Yashoda Naidoo, owner of Annapurna's World Vegetarian Café in Albuquerque and Santa Fe, N.M., position her company to open a third restaurant in Albuquerque this year.
"I think when you write the plan down and present it to a panel, it helps you to really bring the commitment to the business," said Naidoo, who participated in last year's inaugural E200 class.
Other E200 lessons include primers on analyzing financial documents, new marketing techniques, and human resources strategies that can increase productivity and help business-owners delegate tasks. Bienko describes program as a "mini-MBA" for entrepreneurs.
"There's a large appetite for this executive training," he said.
Boston, Philadelphia, Baltimore, Atlanta, Chicago, Milwaukee, New Orleans, Memphis, Albuquerque and Des Moines participated in Emerging 200's first year. (Oakland, Calif., was also chosen but dropped out before the program began.) Those cities are holding a second session this year, while new additions Detroit; Dallas; Denver; Jacksonville, Fla., and Portland, Ore., have also joined in. The SBA has invested a total of $1 million to fund the program in 2008 and 2009.
The participating cities were chosen from more than 50 nationwide that applied. Factors considered in picking the winning cities included economic need and the local SBA office's success in securing a support network of community organizations to assist in the training.
It's uncertain whether the E200 program will return for the 2010 fiscal year, since it was a program that began under George W. Bush's administration and carried over into President Barack Obama's. Local organizers hope to see it survive. Harry DeWolf, district director of the Portland SBA office, said he received more than 70 applications for the 16 E200 openings in his city, which is struggling with one of the highest unemployment rates in the nation.
"It's an excellent way to demonstrate our commitment to the small-business community and highlight the exceptional small business support system we have in this area," DeWolf said.

Their stories: Read about how five Emerging 200 cities have fared.

To write a note to the editor about this article,
click here
.