New small biz chief pledges to get aid moving
In her Senate confirmation hearing, Karen Gordon Mills acknowledges the Small Business Administration's troubled history, but says the problems are fixable.
Photos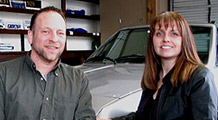 Lou Dobbs Tonight has the first exclusive interview with GM's new CEO, Fritz Henderson.
Wednesday, April 1 at 7pm.
NEW YORK (CNNMoney.com) -- With sales down, credit tight and job losses mounting, America's small businesses are struggling - and so far, the Small Business Administration hasn't been able to do much to help them weather the recession. In her confirmation hearing on Wednesday, President Barack Obama's pick to lead the troubled agency acknowledged the problems besetting the SBA but offered few concrete suggestions for addressing them.
"Small businesses are suffering, and the SBA has lacked the leadership and the resources to help them," Karen Gordon Mills told the Senate Small Business Committee. "These are problems we can fix."

Mills was confirmed Wednesday evening in a unanimous vote.
In her hearing earlier in the day, Mills said that the SBA's first priority should be rolling out the provisions in February's stimulus bill. The SBA last month began implementing some stimulus measures, including temporarily waiving the fees for its loan-guarantee programs and increasing the percentage of each loan that it will insure against default.
But some of the Recovery Act's most closely awaited provisions, including an emergency facility for loans of up to $35,000, are still under development and are not yet operational. The SBA missed the deadline set by Congress for creating guidelines for the wholly new offering, which an agency spokesman describes as "a very complex undertaking."
Senator Olympia Snowe, R-Maine, the committee's ranking member and a staunch Mills proponent who helped her land the nomination, pointed out that small businesses are frustrated that their help isn't arriving fast enough.
"Some say end of April, some say end of May - those deadlines are far too long," she said, expressing concern about "bureaucratic inertia."
Mills echoed the SBA's line that developing a complicated new program takes time.
"It's absolutely in the process of being designed and regulated," she said. "The tricky thing, of course, is to interpret what is viable and make sure that those loans go out in a responsible way."
Ravaged by years of budget and staffing cuts, the SBA has had trouble effectively carrying out a number of its programs. In Mills' hearing, Senators ran through a litany of the agency's troubles, including recent reports spotlighting fraud in the HUBZone program intended to support businesses in economically disadvantaged areas and drawing attention to the SBA's slipshod oversight of government targets for small business procurement contracting.
"In my view, the agency was relegated to the back benches during important policy debates on health care, trade and technology innovation, to name a few," said Committee Chair Mary Landrieu, D-La. "To realize its mission, especially during this economic crisis, the SBA needs to be empowered to carry out its lending, technical assistance and entrepreneurship programs."
To help small businesses land more government contracts, Mills suggested increasing the number of procurement representatives at the agency and providing them with more training. In addition, she highlighted a suggestion from Michael Enzi, R-Wyo., to sponsor networking events to help match prime contractors with small businesses.
Asked how she'll reenergize the SBA, Mills said she will lobby for more resources for the agency and coordinate with other government agencies whose programs affect small businesses, including the Commerce, Labor and Energy departments. Mills called for more transparency in the agency, and promised to take into consideration suggestions made by the Government Accountability Office in several of its audit reports.
Towards the end of the hearing, Mills took questions relating to health care, a perennial small business bugaboo. Mills acknowledged it as a fundamental obstacle for small businesses, and said she'll explore options such pooling business together to lower their costs and offering tax relief for businesses that pay to insure their employees.
While Mills offered little insight into her immediate action agenda, she emphasized that small business can't be left behind in the government's economic recovery planning.
"There are over 26 million small businesses in this country and they create 70% of the new jobs," she said. "This means that to find our way out of the current economic crisis, we have to find ways to help small businesses stay in operation and even expand."
In her closing remarks, Senator Landrieu noted that a swift leadership transition is necessary to start bolstering the SBA.
"We need a captain of this ship," she said before adjourning.

To write a note to the editor about this article,
click here
.