Emergency small business loans to the rescue
The Small Business Administration says its new loan program is off to a promising start. Small businesses owners disagree.
Photos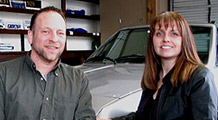 Photos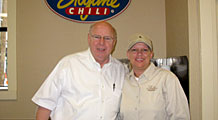 (CNNMoney.com) New York -- Struggling small businesses got their first shot at debt relief this week, through a long-anticipated emergency loans program.
The Small Business Administration says that in the first week of the program, which kicked off last Monday, lenders approved 72 loans totaling $2.4 million. While the SBA is pleased with the numbers, business owners who have been waiting months for the loans remain discouraged.
The program, called America's Recovery Capital (ARC), was authorized in February's stimulus bill. Businesses are eligible to apply for a loan worth up to $35,000 to cover existing debt if they have been profitable in one of the past two years, and have been adversely impacted by the recession.
The ARC loans are interest-free to the business owner, who has up to 12 months to make the first payment and another five years to pay back the entire principal. They are administered by banks and other lenders and are 100% guaranteed by the SBA, meaning that if the borrower defaults, the government picks up the tab.
The SBA had estimated that these loans would reach 10,000 businesses by the time the program is slated to end on September 30, 2010. (It will shut down sooner if funding runs out.) But if things continue at the pace set in the debut week, fewer than 5,000 businesses will end up receiving loans.
Lender participation. Still, the SBA isn't worried. "We rolled out this program differently than other loan programs because of the urgency -- we needed to implement it as quickly as possible," said SBA spokesperson Jonathan Swain. "But we always knew there would be a ramp-up period. We knew there would be lenders who would need to take some time to look at the loans, the terms, their customers, and -- specifically with larger lenders -- how it would impact their system."
The SBA says that the loans were made by 42 lenders from 21 states, but Swain is confident that once larger lenders with greater geographic reach jump on board, the program will expand into more regions.
SBA doesn't know how many lenders are already on board; the majority of the were on the fence in May, when the SBA announced the program's June 15 start date. Many remained skeptical after receiving the guidelines for the program in early June.
"SBA is doing the best it can to implement the program, but the guidebook came out one week before [the program's start date], which is not a lot of lead time," says Tony Wilkinson, president of the National Association of Government Guaranteed Lenders (NAGGL). "It's been a slow start because lenders are either saying 'I have so many questions that I won't bother playing' or 'Give me time to have my questions answered and I'll decide.'"
Wilkinson says his organization has collected a list questions from its constituency that it plans to submit to the SBA this week. "They want to know, for example, how fast will the SBA pay the interest on the loans," says Wilkinson. "And, with a 60% default rate expected, [they want to know] how and when can they collect on a guarantee, given that one of the biggest expenses is liquidating a loan."
Since the guidelines were released on June 8, the SBA has held in-person and virtual informational sessions aimed at addressing the lenders' questions. Thousands of lenders representing 1,300 institutions have been in attendance, according to their tally.
"We fully expect that the participation numbers at those information sessions are an indicator. Of those 1,300 institutions, many of them are probably going to do the program," says Swain.
Favoring existing borrowers. Although banks are allowed to administer ARC loans to cover debt issued by competing lenders, the SBA predicts that banks will primarily award these loans to their existing borrowers.
That puts small business owners like Mack Sullivan in a tricky situation. Due South Publishing, his tourism literature company based in St. Simons Island, Ga., has had a relationship with Bank of America (BAC, Fortune 500) for years. But when Sullivan tried to submit an ARC loan application, the bank responded that it had not decided whether it would participate in the program.
Sullivan has spent the last two weeks contacting banks and finally landed a lead; a BB&T (BBT, Fortune 500) branch in Georgia said it would be happy to entertain his application so long as he becomes a client. Sullivan wonders if leaving Bank of America is the right move for a $35,000 loan.
"Is that in the spirit of what ARC loans are going to be? Just leverage to force you to do business with a bank?" Sullivan asks.

Lenders have reported to NAGGL's Wilkinson that they have received hundreds of calls inquiring about the program. He says that even when the program ramps up, there will be issues in meeting the demand.
"Even if every question is answered by the SBA in one day, lenders still may not want to participate and there will be unhappy folks," he says. "The biggest problem with this program is that there will be unmet expectations."

To write a note to the editor about this article,
click here
.