Redefined radio: Pandora.com
An Internet music phenomenon plants roots in Oakland.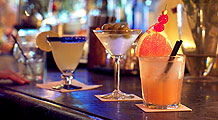 This west coast port city has way more to offer than its reputation suggests.
(FSB Magazine) -- Nobody knows where the future of the music industry lies, but few would place its epicenter in Oakland. That doesn't bother Pandora.com's co-founder, Tim Westergren, whose free, customizable online music service is based in a city not known for tech startups. Westergren, 42, has spent the past nine years here in the East Bay, growing Pandora into a music-streaming colossus -- think of it as your own personal radio station -- that caters to 25 million listeners nationwide. "We want to completely redefine radio," he says.
He may already have. Even now, Pandora's audience eclipses some larger traditional stations in Chicago and New York in the coveted 24- to 49-year-old demographic. That's undoubtedly because music lovers can access the service via their iPhones and BlackBerrys (Pandora recently introduced apps for both). Revenues, mostly from advertising, reached the $20 million mark last year.
A pianist from an early age, Westergren studied composition and computer science at Stanford University. After college he played in various rock bands and worked as a composer for indie films (such as 1999's The Last Best Sunday). In January 2000 he came up with the Music Genome Project -- a quasi-scientific approach to mapping a song's musical qualities (its DNA, as it were) with descriptive terms. He then created software utilizing the Music Genome Project's findings that would automatically recommend music based on a listener's personal preferences. This software became the basis for Pandora.com, which he launched in late 2004.
Here's how the site works: Users type in their favorite song or artist -- say, the Beatles. Pandora may play a lesser-known track, like "Wait" from the group's 1965 Rubber Soul album, followed by the Rolling Stones classic "As Tears Go By." What do these songs have in common? According to Pandora, they both feature "mellow rock instrumentation" and "folk influences," among other similarities. Users can click a thumbs-up or thumbs-down icon for each song to indicate whether or not they like it. Pandora's proprietary algorithm then spits out another song with comparable musical characteristics.
Over time the service picks songs or different musical genres -- such as jazz or classical -- that it thinks a listener might enjoy, based on previous choices. "There's a huge frustration among listeners that radio doesn't play music they like," Westergren says. "Once you use personalized radio, why would you go back to a station that is programmed for you and half a million other people?"
However, not everyone sees it that way. "Traditional radio forces you to listen to new things," says Bob Lefsetz, author of the influential music industry blog the Lefsetz Letter. "Pandora's recommendations are ridiculously tame." The New Yorker's pop music critic, Sasha Frere-Jones, agrees: "I wish it were more adventurous."
But some musicians - most notably U2 front man Bono - have given the service a thumbs-up. John Simson, executive director of Sound Exchange, a company that collects and distributes royalties to musicians when their music is played online, thinks Pandora or something like it could be the future of radio.
Many working musicians hope so too: Independent artists account for nearly 70% of the music available on Pandora. Westergren, who toiled in unsigned rock bands for 10 years, even hopes that someday his creation might make playing in a rock band - ahem -- a respectable career choice. "Wouldn't it be great if you told your parents you wanted to join a rock band after college," he says, "and they were happy about it?"

To write a note to the editor about this article,
click here
.