California vendors fight for their cash
Small business owners plan layoffs and furloughs if they're saddled with hard-to-redeem IOUs.
Map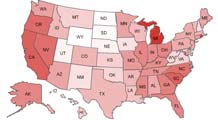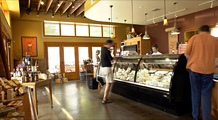 At the end of last year, five business owners struggling through the recession shared their stories of facing a make-or-break holiday season. Here's how they fared.
NEW YORK (CNNMoney.com) -- As if struggling to stay afloat during a faltering economy isn't difficult enough, hundreds of small business vendors that rely on contracts with California are facing another hurdle: There's a good chance the state won't be paying any of their invoices this month.
After the state legislature failed to agree on budget solutions earlier this month to close a $26 billion gap, California started issuing IOUs for a variety of payments it owes -- including most of its vendor bills, personal income tax refunds, and funding for local governments. "This means that the state is casting off its cash-flow problems onto hundreds of families and small businesses in California," says Jacob Roper, a spokesman for the state controller's office.
So far, California has mailed $354 million worth of IOUs and plans to issue a total of $3 billion by the end of July. Around $140 million of the warrants are expected go to small business owners. While the state controller's office won't say exactly how many small companies will be hit, it's likely to be a big number: The state's department of general services says it holds $2.7 billion worth of annual contracts with at least 14,000 small companies, most of them California firms.
Affected business owners say they're in uncharted territory.
"We've never seen this before -- never had anything happen where we didn't get money from the state," says Gary Button, vice president of Redwood Debris Box Service in Burlingame, Calif., a firm that provides garbage and recycling containers for the state's department of transportation. State work only accounts for about 3% of Redwood Debris' business, but Button is expecting an IOU any day, which he says he will hold on to until it matures.
"I'm not going to cash it in for less than it's worth," says Button.
The state plans to redeem the IOUs, with a 3.75% annual interest rate, on October 2, or earlier if a budget deal is signed. But many small firms -- especially those that do the majority of their business with California -- can't wait that long.
"We've already been delayed by six months in payment from the state -- and now we're expecting one of those IOUs," says Gloria Freeman, owner of Staff USA, a firm in Rocklin, Calif. Contracts with the state account for 80% of her firm's annual revenue. "The real problem is not knowing how long it will take them to resolve this issue."
Staff USA provides medical staffing for various state-run divisions, and Freeman says that California owes her hundreds of thousands of dollars, much of that for services she rendered early this year. In anticipation of receiving an IOU instead of money, Freeman has laid off five employees. Searching for a new cash stream, she recently launched a new online auction business, Auction Ten, that helps consignors sell antiques and collectibles.
While she hopes that Auction Ten sales will help supplement her income, Freeman has found another use for the site. "I'll be auctioning off IOUs for people who don't want or can't redeem them via the bank," she says.
Most small businesses hope to cash in their IOUs at a bank, a process that's turning out to be difficult. Initially, all major California banks said they would honor the IOUs by charging customers a small processing fee, paying out the face value, then taking over the interest. However, the state's largest banks, including Bank of America (BAC, Fortune 500) and Wells Fargo (WFC, Fortune 500), later imposed a deadline. They stopped accepting the IOUs on Saturday.
That's a big problem for small vendors who had no hope of making the deadline because they haven't yet received the warrants they're owed. The state controller's office says there's no pecking order for issuing them; the state pays them out as bills come due.
By enforcing a deadline, the big banks hope to pressure California to make progress fast. "The message that they're sending is that the budget needs to be solved sooner rather than later," says Beth Mills, a spokeswoman for the California Bankers Association. "These banks don't want to be seen as enabling the Legislature."
Redemption options
A number of California's community banks and credit unions plan to accept the IOUs indefinitely, but in many cases, the terms are tough.
"My community bank will redeem the IOU for a fee, but I have no choice but to do it," says the owner of an 11-person firm who asked not to be named. "It's not worth my while to wait for this thing to mature. I'd be losing money." His company, which does $10 million in annual business with the state, has been providing goods to prisons, state hospitals, and schools for more than 20 years. This is the first time he's been confronted with an IOU.
"If this situation continues to force us to take losses, I'll have to look into furloughing employees and laying some off," he says. Even before the latest crisis, California was firing off distress flares: Last month, he received a letter from the state asking if he would consider voluntarily reducing his company's charges by 15%.
The California Credit Union League reports that most of its member unions are willing to honor the IOUs, but at many branches, new clients would have to open an account to be able to cash in the warrant. The unions say they're offering as much flexibility as they can: Some are considering modifying the terms of loans they're made to small businesses affected by the IOU situation.
"We're a little different from banks," says Jim Ott, CEO of UNCLE Credit Union, a mid-size union based in Livermore, Calif. "We want to be able to help our members."
As a last resort, cash-strapped companies may be able to redeem the IOUs at check-cashing storefronts or via online marketplaces such as Craigslist or eBay (EBAY, Fortune 500), but small business advisors warn against that because of the large fees and face-value discounts that would be incurred.
"I would automatically find a bank that will redeem the IOU for 100 cents on the dollar rather than taking a haircut by going to a check-cashing facility," says Donna Childs, a business consultant and author of Prepare for the Worst, Plan for the Best: Disaster Preparedness and Recovery for Small Businesses. While businesses selling the IOUs might be able to haggle and receive close to face value, the California State Treasurer's office has mandated that the transactions must be accompanied by a notarized bill of sale signed by the payee whose name appears on the IOU.
For vendors that need cash sooner rather than later, losing a few bucks due to exchange fees might be the least of their worries. If California doesn't resolve its budget crisis soon, many more small companies will end up caught in the political crossfire.
"The level of rhetoric between the governor and the legislature has been very high," says Peter Iannone, a director at the Los Angeles office of CBIZ MHM, a national accounting firm that consults for many small businesses. "So far I haven't seen a lot of indication that they know how to figure this out."

To write a note to the editor about this article,
click here
.