Staff cuts: 'This was the last resort'
Almost two years into the recession, small businesses are still hemorrhaging workers. Those on the front lines see little prospect of a hiring surge.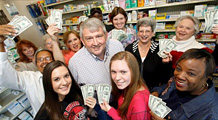 Using $2 bills and "buy local" promotions, these 6 towns have launched their own campaigns to keep local businesses alive.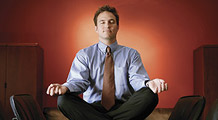 Terminating workers can be as traumatic for small business owners as it is for their staff. Here's our guide to getting through.
NEW YORK (CNNMoney.com) -- Wall Street has been on a tear in the past few months, but Main Street is facing a much more jagged road to recovery. While small companies are not cutting staff as quickly as they had been, the job losses continue to mount.
Businesses with fewer than 50 employees shaved another 122,000 workers off their collective payrolls in August, according to a report released Wednesday from payroll processor ADP (ADP, Fortune 500). While the total number of employees who lost their job in August was the smallest since September 2008, by ADP's estimates, it was the 19th straight month in which small businesses cut workers.
"Since reaching peak employment in January 2008, small-size businesses have shed 2.5 million jobs," Joel Prakken, chairman of ADP research partner Macroeconomic Advisers, said in a written report. "Employment among small-size businesses is likely to decline for at least several more months."
Small companies -- those with 500 or fewer staffers -- employ almost half of America's private-sector workers, and they traditionally move faster than large companies to add staff when the economy picks up. But those on the front lines don't anticipate a hiring surge any time soon. With sales slow and credit tight, business owners are still paring down to the bone.
"For the most part, the businesses that we have seen are in survival mode: they are trying to keep the doors open," said Debbie Trujillo, regional director of Small Business Development Center network in San Diego, Calif.
Funded by the Small Business Administration and local organizations, development centers are free, one-stop information centers for individuals and small business owners looking for advice. Right now, many of those coming by are seeking advice on how they can keep up with their bills and hang on to key staffers.
"We try to look at other areas they can cut first to be more efficient, because they have probably invested a lot of time and energy training these employees," said Lucille Wesnofske, the regional director of a small business development center on Long Island, N.Y., at Farmingdale State College. "In many cases, they may understand the business as well as the owner, so you don't want to lose those employees."
But sometimes, the bottom line gets the final say. Cal Hardy, the co-owner of an Internet and gaming café called Cybernutt in Newport News, Va., was forced to make his one full-time employee a part-timer. The lone employee, who ran the café by himself during the day, left the shop soon after.
"That was the last resort -- of course we didn't want to do it," said Hardy of the decision to decrease his employee's hours. "We went some months without doing it, but in order to just survive we had to cut. We had hoped that it would turn around and we would put him back to full-time, but it hasn't happened yet."
Hardy and his partners have had the café for just under a year. Located in a strip mall, the shop has been hard-hit by other stores in the mall closing down. The co-owners of Cybernutt, who all have full-time jobs as engineers, are all putting in more time to cover for the vacancy.
"We had a very limited role, but now we are going to have a more active role," Hardy said.
Getting creative: One upshot of the economic crunch is that small business owners are spending more time thinking about how to keep their remaining staffers happy and productive. Business owners that didn't previously pay much attention to how they communicate with their workers are now seeking training on it, development center counselors say.
"We have had a lot more interest for HR assistance, and it is largely because people are trying to explore their options," said Trujillo. "They are trying to come up with those policies that they didn't have in place before."
For small companies, worker retention can be a make-or-break matter. It's also a personal one. "The small business owner knows all of their employees, knows their capabilities, knows their loyalties -- they are almost a family," said Wesnofske in Long Island. "Not only do they know their employee, they know their employee's family."

To write a note to the editor about this article,
click here
.