Cell phone dead? Buy a charge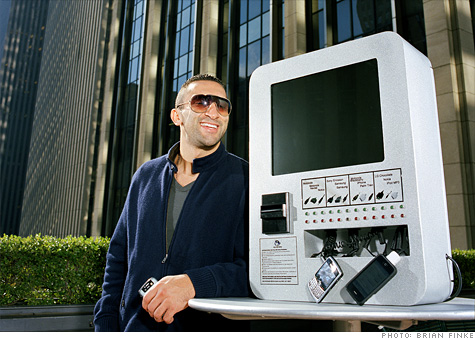 (CNNMoney.com) -- Paul King was headed to the airport in Pittsburgh in 2006 when he suffered an ill-timed communications blackout. His cell phone died -- and the Carnegie Mellon student realized he still had his roommate's house key in his pocket.
If he didn't call her to arrange a return, she would be locked out all weekend. But without access to his electronic phonebook, he didn't know her number.
King wound up driving back to his house to leave the key under the mat. He missed his flight to Miami.
On his return trek, King drove past a number of ATMs and convenience stores. That's when the idea struck him: You get cash anywhere. Why can't you charge your phone anywhere?
The idea: Two years later, King decided he'd try to invent an automated charging machine -- ACM for short. Then he learned that someone had beaten him to the punch. A Chinese company called TCN had already developed a public machine for charging cell phones and sold thousands of them in China.
King didn't give up. Instead, he approached the company and asked to be its exclusive distributor in the United States, Mexico and Canada. They ended up cutting a deal: King's New York-based business, Hercules Networks, raised $1.5 million from investors, including Miami real estate developer Michael Gold and a group led by serial entrepreneur David Walke. TCN agreed to add a screen to its machine, which would display advertising messages while users -- paying $2 to $5 apiece -- waited for their phones to charge.
"No one has said it's a bad idea," says King, 25. "The idea was the easy part."
He's targeting an obvious problem. Cell phones today are far more energy-hungry than their forbearers, with powerful processors and features including GPS, Wi-Fi and Bluetooth. Yet their batteries haven't scaled up accordingly.
"Battery technology may be 10 years behind cell phone technology, and smartphones just suck power," says Will Stofega, a mobile phone analyst at IDC Research in Boston.
The risk: King isn't the only one trying to capitalize on this problem. Handset giant Samsung has installed free charging stations -- power poles with three-prong plugs for charging any kind of electrical equipment -- across the U.S. in 10 major airports and on 15 college campuses.
"We're hoping to build an emotional connection with consumers," says Kim Titus, director of Samsung Mobile in Dallas. "We always have our eyes out for places for recharging mobile phones."
Samsung plans to offer charging stations on 50 campuses by this spring, and Stofega doesn't think it will be long before other cell phone manufacturers, vendors and carriers follow suit to promote their brands.
The reward: So far, Hercules Networks has managed to go where Samsung has not, with 14 ACM machines in Las Vegas casinos, 65 machines in Six Flags amusement parks and another 50 machines in bars and clubs. Up next: shopping malls. The nine-employee company tripled its revenue in 2009, and King expects the business to hit $2 million in sales this year.
King has scored advertisers including AT&T, Target, Google, Bank of America, GM and Cadillac. And Men's Wearhouse is considering buying a new generation of Hercules chargers, hoping to entice window shoppers to come inside.