Click here to see the doctor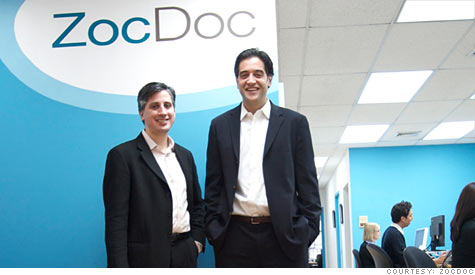 NEW YORK (CNNMoney.com) -- When his eardrum ruptured on a flight out of Seattle in 2006, Cyrus Massoumi knew he needed to see a doctor, fast.
He thought he'd have no trouble finding a same-day appointment when he landed in New York City, which has more doctors per capita than any other urban center in the world.
Massoumi was wrong. His insurance company provided a list of local doctors covered by his plan, but it was hopelessly out of date. Once Massoumi sorted that out, he faced another challenge: lack of information about the quality of the physicians who accepted his insurance. All told, it took him four days of research and phone calls to schedule an appointment for his painful malady.
"I thought, 'Wow, this is a problem,'" he recalls. "Why can't I book doctor's appointments the same way I book restaurants or flights?"
So Massoumi, who was working at management consulting firm McKinsey & Company, shared the idea of an online scheduling service with one of his colleagues, Oliver Kharraz, a physician and electronic health systems specialist.
The two left McKinsey and invited a third partner, Nick Ganju, to join them. In April 2007, they formed ZocDoc in Ganju's apartment.
Three years later, ZocDoc has scored $3 million in venture capital funding from big-name investors including Jeff Bezos of Amazon.com (AMZN, Fortune 500) and Marc Benioff of Salesforce.com (CRM). The small business has 30 employees and is about to outgrow its second Manhattan office space.
Massoumi wasn't the first person to think booking doctor's appointments online would be a good idea. Several companies -- most notably, one called Xoova that tried to provide the service nationwide -- have tried but failed, often because their plans were overly ambitious, says Christine Chang, healthcare technology analyst at Ovum, a London-based research firm.
ZocDoc started by targeting doctors in just one metropolitan area. That narrow focus has been key to its success so far. "They specifically did not want to take on too much," Chang says.
When ZocDoc.com went live in September 2007, it only scheduled appointments with dentists in Manhattan. Now the site books visits for tens of thousands of doctors in 14 specialties across New York's five boroughs and in Washington, D.C. At the end of this month, it will expand to San Francisco.
ZocDoc recently added its first hospital, the New York Eye and Ear Infirmary, which brought 800 new doctors onto the company's roster.
ZocDoc is free for patients and levies a flat fee for doctors, ranging from $100 to $250 per month. In November, approximately 110,000 people used the service to find a doctor. Massoumi declined to disclose the company's revenues.
Apart from scheduling visits, ZocDoc encourages patients to rate and review doctors they've seen, a feature that user Heather Rossi finds particularly valuable.
Rossi, a 27-year-old sign-language interpreter, moved to Manhattan two years ago. At the time, she didn't know anyone intimately enough to ask for doctor recommendations, her preferred way of finding a physician.
"I really like that the reviews are from patients, not from the insurance company," she says. "Since they are patients like me, I feel I can trust their opinions."
Stories like Rossi's are why Massoumi said he wanted to start a business devoted to making health care services more accessible.
"Every 30 minutes on our Blackberries we're getting e-mails from our patients thanking us," he said. "That's one of the main reasons why we're doing this."