IPhone credit card swipe war heats up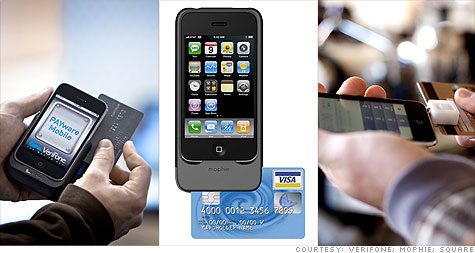 NEW YORK (CNNMoney.com) -- What if your iPhone took plastic? Imagine if your business could use it as a mobile credit card processor, a swipe-and-go system for ringing up payments wherever you roam.
Three rival companies are placing heavy bets on that vision, bringing to market three different magnetic stripe readers this year for use with Apple's (AAPL, Fortune 500) iPhone and iPod Touch. They're battling each other for the hearts -- and wallets -- of mobile merchants, promising an improvement over the clunky, hardwired credit card terminals that have been a staple of brick-and-mortar commerce for decades.
"Our only concern is that we're not able to get this into people's hands fast enough," says Twitter co-founder and chairman Jack Dorsey, who unveiled his new startup, Square, in December. Dorsey says the company will release its tiny, square-shaped credit card readers -- each roughly the size of a quarter -- early this summer.
Square has been amassing wads of cash -- $10 million in venture capital so far, according to online tracker Crunchbase.com -- and assembling an army of big-name angel investors, including Marissa Mayer, vice president for search products at Google (GOOG, Fortune 500), and Kevin Rose, the founder of Digg. (The company also announced a roster of advisors including, somewhat bafflingly, Alyssa Milano of "Who's the Boss" and "Charmed" fame.)
Square has some serious competition. Last week, VeriFone (PAY), the global manufacturer of electronic payment systems, started shipping an iPhone sleeve called the PAYware Mobile credit card swiper. And Mophie, an iPhone case maker, plans to release its own payment device, the Marketplace, in late March.
All three companies are firing at the same target: the un-tethered workforce.
Square's hardware is in the hands of a small pool of testers, including flight instructors, piano teachers, flower vendors, food cart proprietors, Craigslist sellers and folks who work at San Francisco's Sightglass Coffee, where Dorsey is an investor.
Who else might want to use a mobile credit card reader?
"The guy that comes to your home to detail your car, the repairman who comes to fix a broken faucet, the person who sells you a piece of art and maybe sells only two or three a week," suggests Douglas Bergeron, the CEO of VeriFone.
Ross Howe, Mophie's sales and product development director, rattled off more possibilities. "Your contractor, your plumber, your limo driver, your wedding photographer," he offers. "There's a lot of unacquired merchants -- individuals or small business owners -- who have a difficult time taking credit cards."
The battlefield
Merchants certainly have other iPhone options. They can, for example, use applications like InnerFence, iMerchant Pro and Swipe It, which accept credit card numbers entered by hand. The downside? Merchants typically pay higher fees for numbers-only payments, which are known in the industry as "card-not-present" transactions and are more vulnerable to fraud. And, penalties aside, it can be aggravating to hunt and peck long strings of numbers into the iPhone's Lilliputian keyboard.
"You'll be able to swipe many more credit cards during the day when you don't have to type it in," asserts Howe, talking about Mophie's Marketplace.
Despite the companies' parallel aims, their products will look -- and behave -- somewhat differently.
VeriFone's PAYware Mobile swiper resembles an iPhone case with a card slot running along the side. Users pay a one-time fee of $49 and an additional $15 per month over the course of a two-year service agreement. They can expect to shell out about 17 cents per transaction, along with the interchange fees that are levied by card-issuing banks.
Bergeron, VeriFone's CEO, is banking on his company's long history in the credit card payment arena. And he's not afraid of taking a swipe at the up-and-comers. "Unlike some of the gadgets that have been proposed, we've been in this business for 30 years," he says. "Our name is synonymous with security. The VeriFone brand is to credit card processing like Kleenex is to tissues."
Ross Howe at Mophie takes more of an aesthetic approach. "We've been in the business of designing beautiful, sexy cases for the iPhone for a long time," he explains.
Mophie's Marketplace takes the form of an iPhone case, with a card slot that runs along the bottom of the phone. The hardware will cost under $200 and be compatible with many pre-existing payment applications for the iPhone, Howe says. "We want to play with everybody," he explains.
At roughly the size of a quarter, Square's hardware is small enough to hang on a keychain and plugs into a phone's audio jack. A magnetic strip reader converts card information into a series of audio tones that get deciphered by Square's iPhone software. Because all phones have audio jacks, Square's reader will be compatible with Android and other smartphones once the company develops corresponding software, according to Jack Dorsey, Square's CEO.
Dorsey plans to distribute the hardware for free and make money on individual transactions, though there's no pricing structure in place yet. Unlike its two competitors, Square doesn't require users to open individual merchant accounts with banks.
"Signing up for Square is just a matter of putting your name and address and picture in our system," Dorsey says. "What we're trying to do is remove friction from every part of the process."
And that goes for friction with the competition, too. Asked how he planned to tackle Mophie and VeriFone, Dorsey asserted that his company is deeply committed to providing "a really well-designed experience."
"We're not going to compete with them," he says. "Hardware is not our business."