Turn your iPhone into a credit card terminal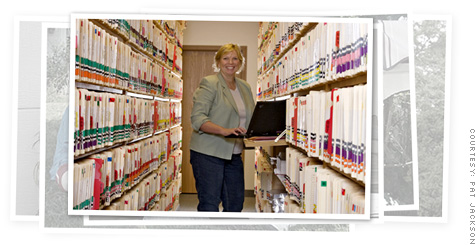 (CNNMoney.com) -- For years, small business owner Pat Jackson struggled to find an affordable way to let customers pay for heating and air conditioning repairs with their credit cards at home.
The owner of Jackson Comfort Systems in Northfield, Ohio, once tried out a credit card processing service from Nextel, but her technicians hated the bulky phones it required. Then she looked into options from AirCharge and United Bank Card, but those services were pricey: up to $250 for portable credit card machines and $25 per month, per truck for wireless service.
Eventually, she asked her 27 technicians to simply write down customer credit card numbers. Payments would get processed in her office. But that led to errors and higher credit card fees. Plus, customers didn't like it.
"It was frustrating," says Jackson. "We pride ourselves on good customer service, and that meant we weren't giving it."
But in May, Jackson received a flyer telling her about a new service called GoPayment from Intuit (INTU). For $20 per month, Jackson's technicians can use their existing cell phones and text messaging services to process payments. Instead of waiting weeks to get paid, Jackson Comfort Systems gets its money on the spot.
Paying with plastic has been the norm for years, but for many small businesses like Jackson's that operate remotely, it has been an elusive benefit. Out on the road, options were limited: buy cumbersome machines for hundreds of dollars, call the office with credit card numbers, or simply miss a sale by refusing to take credit cards.
Now, photographers, contractors, limo drivers and dog trainers -- any business that operates remotely -- can find a wealth of new software to process credit cards on mobile phones.
Apple's (AAPL, Fortune 500) iPhone has been a big driver, with a slew of new applications popping up in the last year. Users type a credit card number and expiration date into the phone, and have the customer "sign" on the phone's screen.
"Now we have some small businesses that are running their whole businesses off the iPhone," says Derek Del Conte, co-founder of Inner Fence, which developed the first iPhone application for processing credit cards.
Inner Fence's app costs 99 cents to download and then $25 a month. Each transaction costs 25 cents, plus 2.09% to 3.79% for fees charged by the credit card companies. The app also lets business owners issue refunds, review prior sales and email PDF receipts of their transactions.
GoPayment, the service that Jackson uses, requires a $60 setup fee and a $20 monthly fee, plus a $0.23 per-transaction fee and 1.64% to 3.54% for credit card processing fees.
Jackson decided to spend an extra $1,000 extra to buy 10 pocket-sized Bluetooth credit card swipers that work in conjunction with the cell phones. She reserves them for when she rings up bigger sales. Using a swiper lowers the credit card fees -- it's an anti-fraud measure adopted by the processing companies.
Jackson estimates that the swipers save her $600 a month in fees. For her company, which has annual sales of $3.2 million, the entire investment in mobile credit card processing paid off within a couple of months.
"It saves us a bunch of money at a time when business costs are increasing," she says. "The customers like it, and the technicians like it -- and they never like any kind of changes."