The lending crunch: 'It is very hard to survive'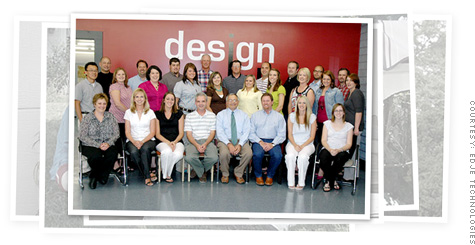 NEW YORK (CNNMoney.com) -- Small business loans continue to dry up at the nation's biggest banks. Eleven top TARP recipients -- including Wells Fargo, by far the nation's largest lender to small companies -- cut their collective small business loan balance by more than $2.3 billion in December, according to a Treasury report released late Tuesday.
The drop marked the eighth consecutive month of declines for the 11 banks. In that time, their total loan balance has fallen 7%, to $169.4 billion. Seven of the reporting banks have cut their small business loan balance every single month.
"Credit is still tight for many small businesses," the Treasury acknowledged in a Feb. 10 report.
The 22 banks that got the most help from the Treasury's bailout programs have been filing monthly lending reports to the government, and since April, they've been required to break out their small business lending. But as of this month's report, the 10 banks that have completely repaid their bailout funds in June are no longer required to divulge their lending.
CIT Group (CIT, Fortune 500) also did not report lending data in December. The one-time small business lending giant filed for bankruptcy in November, wiping out the government's $2.3 billion Troubled Asset Relief Program (TARP) stake in the bank. The Treasury officially wrote that investment off last week.
Tight credit chokes job creation: While the credit crunch has eased for large business, it remains a bottleneck for most small businesses. Without access to capital, small companies struggle to finance their daily operations and expansion plans.
Ed Tlach owns a Des Moines, Iowa, Web design and printing business called Edje Technologies, which employs about 30 full-time workers. The company is strong and growing: Tlach has already hired two employees this year and is about to bring on another new designer.
The tight credit market is actively preventing him from hiring faster. "There is plenty of business out there, but I have to save the money before I can expand," he said.
It typically takes several months before a new staffer is trained and generating revenue. Tlach, who has been in business since 1998, used to have no problem borrowing $20,000 to cover the upfront expenses of a worker. But for nearly 18 months, credit lines have been noticeably scarce.
"We grew really quickly here," Tlach said. "About five years ago, I think I hired five people in one month, and two years ago, I hired six people. I wouldn't even think about doing that this year."
Dwayne McDougle, the sole proprietor of Janitorial Solutions Inc., is also waiting for financing before he can hire. Based in Omaha, Janitorial Solutions bids on government cleaning contracts and brings on subcontractors to handle the work.
McDougle, who served in the Navy for 10 years, went into business for himself three years ago. His company is a certified minority-owned, disabled veteran-owned business, but still can't find the credit it needs to grow.
"As a middle-class American, it is very hard to raise capital," McDougle said. "I am trying to hire a couple people, [buy] office equipment and so forth. It is very hard to survive as an entrepreneur in this environment when the banks are not lending to us."
McDougle has already identified a job candidate he wants to hire, but his ability to do it depends on government-backed loan he's applying for through his current bank, the Navy Federal Credit Union. He's frustrated by how quickly Wall Street got aid -- and how slowly it's reaching Main Street.
"The government needs to get behind us and give us the same insulation that they give GM and AIG," McDougle said. "They have squandered billions of dollars and leave us paying the bill."
Obama's new moves: McDougle isn't the only small business owner who feels the decks are unfairly stacked. The White House has been working overtime lately to counter the backlash.
In the last month, Obama has unveiled half a dozen proposals aimed at helping small businesses, ranging from tax credits for hiring to a new, $30 billion government lending fund that would be available to community banks that boost their small business lending.
But the president's proposals rely on Congress to enact them, and that's not happening fast. The jobs bill Obama has been pushing is stalled in the Senate, and may emerge as a bare-bones version of what the president asked for. Meanwhile, health reform -- last year's big campaign -- is stuck in limbo.
That's left entrepreneurs wary about relying on banks, the government, or anything at all beyond their own resources.
"There are so many things changing; Washington is so unstable for small business," said Tlach of Edje Technologies. "So I am a lot more cautious."
Still, he's happy to hear President Obama and other officials talking up their new raft of initiatives.
"It is a step in the right direction if Washington would start helping small businesses," he said.