Reversing the jobs wipeout: What $5,000 can do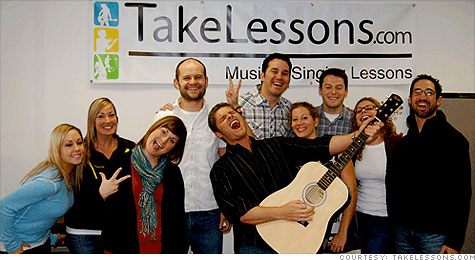 NEW YORK (CNNMoney.com) -- America's smallest businesses shed another 12,000 workers last month, extending a two-year streak in which job losses have mounted every month, according to a report released Wednesday by payroll processor ADP.
But the tide could be turning: The pace of losses has slowed, and one segment of the market -- companies with 50 to 499 workers -- added a net 9,000 positions in January.
And some business owners say President Obama's recent proposal for a $5,000 per-worker tax credit for new hires this year could help goose the recovery.
"I am personally extremely excited about the tax credit," said Ryan Millman, president of Nations Photo Lab in Owings Mills, Md.
Millman's two photo labs employ about 70 full-time workers. His companies grew fast last year, and Millman expects to see growth of at least 50% in 2010. He anticipates hiring 20 to 25 new employees this year. That could net him tax credits of more than $100,000, if Obama's proposal is enacted by Congress.
"We are going to take that money, that tax credit, and plow that right back into our business," Millman said. "Any money we get is going to help us to continue to expand and grow." He says he would like to invest the cash in product development and buying new equipment.
Steven Cox, the owner of music instruction provider TakeLessons.com, is also looking to hire.
"We needed more people, but we simply put it off. We all worked longer hours to hit our revenue goals and profit goals, and we just can't keep doing that," said Cox, who launched his San Diego, Calif., company in 2006 and now has 12 workers. "To us, every single $5,000 really, really matters."
Cash for jobs: America's smallest companies, those with fewer than 50 employees, have cut 2.7 million positions over the past two years -- almost a third of the total jobs lost in the U.S., according to ADP's estimates. Reversing that trend has become a top priority for President Obama and his administration.
Job creation "must be our No. 1 focus in 2010," Obama announced during last week's State of the Union address. Days later, he traveled to Baltimore to visit a local machine company and unveil his tax-cuts-for-jobs strategy.
"Now is the perfect time for this kind of incentive because the economy is growing, but businesses are still hesitant to start hiring again," Obama said in Baltimore. "The economy is growing, but job growth is lagging."
Among business owners, reactions were mixed. Sales for many companies have dried up throughout the recession, and for those businesses owners, tax credits to hire workers they don't need or can't afford won't do much good.
But then there are the entrepreneurs like Shane Schuster, who says just a little bit of government money could be enough of an incentive to influence his hiring plans.
Shane Schuster is the CEO of Alternative Commercial Solutions (ACS), which handles credit collections for businesses. The Hillsboro, Ore., company launched in October 2004 and now has a staff of eight. Schuster would like to add a half-dozen more workers.
A tax credit would allow ACS to hire "someone who is requiring a higher salary, as opposed to training somebody from the ground up," Schuster said. It would also offset the rising cost of benefits like health care.
Strengthening Main Street: Washington policymakers have let loose with a flood or proposals this past week aimed at helping small businesses, which were particularly hard-hit by the recession.
On Tuesday, Obama called for a new $30 billion Treasury fund to make cheap capital available to community banks that boost their small business lending.
Treasury Secretary Timothy Geithner appeared before Congress on Wednesday to discuss government programs aimed at freeing up credit for small companies, especially those in economically disadvantaged areas.
"We need to work together to intensify our focus together on job creation, on investment and on innovation," Geithner told the House Ways and Means Committee. "When you talk to small businesses across the country, as I know you do, they tell a similar story. They're worried about whether they're going to see demand for their products. And their ability to expand and to hire depends on access to credit."
Later in the day, Geithner announced a program to make Troubled Asset Relief Program capital available to Community Development Financial Institutions (CDFIs) at a 2% dividend rate, well below the standard 5% rate the Treasury usually charges for TARP funds. CDFIs are financial institutions that lend in the most underserved communities.
To enact any of Obama's new proposals, including the hiring tax credits and the $30 billion lending fund for community banks, the president needs backing from Congress. But opponents are already questioning the plans' price tags.
"More government spending isn't what small businesses need," House Minority Leader John Boehner, an Ohio Republican, said in a statement. Even among Democrats, Obama could have trouble mustering enough support to push through programs that will increase the country's debt load.
But business owners like Ryan Millman will be crossing their fingers that the proposals move forward.
"Anytime you give something to small business and give them some kind of incentive, it can only be positive," Millman said. "Hopefully it is something that we can get passed."