A fresh (and cheap!) sound for TV soundtracks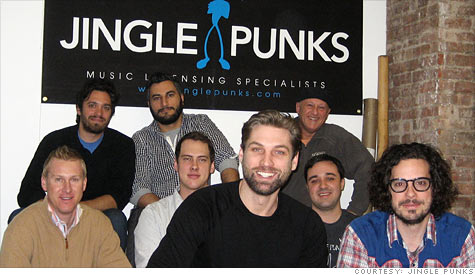 (CNNMoney.com) -- Like many aspiring rock stars, Jared Gutstadt, 32, used to split his life in half. He held down a day job editing television shows for clients like Disney, MTV and VH1. He kept his nights free for what he really wanted to do: make music.
That changed two years ago, while Gutstadt was editing an independent film that needed a song with a Pulp Fiction-like vibe. After hours spent trying to find the right sound, he was left with two options. He could keep wading through stock libraries of tunes, a time-consuming process that was unlikely to yield anything edgy or exciting. Or he could seek out a popular track, facing the heavy fees associated with established recording artists.
Then came his "eureka" moment: Why not create a common-sense search engine, one that would use pop culture referents and simple adjectives like "dark" or "retro" to help film and television producers find the right songs? And what if those tracks were affordable, interesting songs from emerging artists?
"I realized if we could develop a system which aggregated and organized music in this way, the user experience would end up being far superior to any other system for production music," Gutstadt said. And so Jingle Punks was born.
Gutstadt co-founded the company in August 2008 with programmer Dan Demole, 30, whom he'd met and bonded with at a Black Keys concert. The pair bootstrapped themselves to the tune of $50,000 and quickly lined up their first client: Sunset Lane Entertainment, which produced the first-ever YouTube Live webcast. Today their growing roster of customers includes the History Channel, YouTube, Animal Planet, TV Land, The Food Network and Bravo.
Gutstadt wouldn't disclose the company's exact revenues, but said they've doubled each quarter since Jingle Punks got started. Some clients pay as little as $100 to use a single tune in a Web broadcast. Others shell out as much as $50,000 to license music for a full season of a television series.
Jingle Punks isn't alone in the market. Other licensing services, such as You License and Pump Audio, are also aggregating independent music for television and film.
But Jingle Punks stands out from the pack, according David Weiss, co-founder and editor of SonicScoop.com, a news site devoted to music and sound production. Jingle Punks offers a "much more efficient way to deliver the goods," a "more intuitive" method that speaks the language of musicians and music supervisors, he says.
The company's proprietary search engine, the Jingle Player, lets users enter the vaguest sonic parameters -- "sounds like I'm in Starbucks" -- and get results pulled from a database containing the works of roughly 300 professional musicians.
Jingle Punks recently supplied all the music for the second season of Bravo's top-rated "Real Housewives of Atlanta." According to the show's executive producer, Lauren Eskelin, Gutstadt delivered on his promise: dynamic new music.
"Other music libraries, you hear their stuff on other networks over and over again," Eskelin said. "We were looking for a new sound this season, and he bent over backwards to put together some great stuff."
Gutstadt hopes to eventually expand his database with music from major record labels. He'd like to see Jingle Punks become "the iTunes-meets-Pandora" of music licensing.
Not bad for a day job.